2021 Squats for January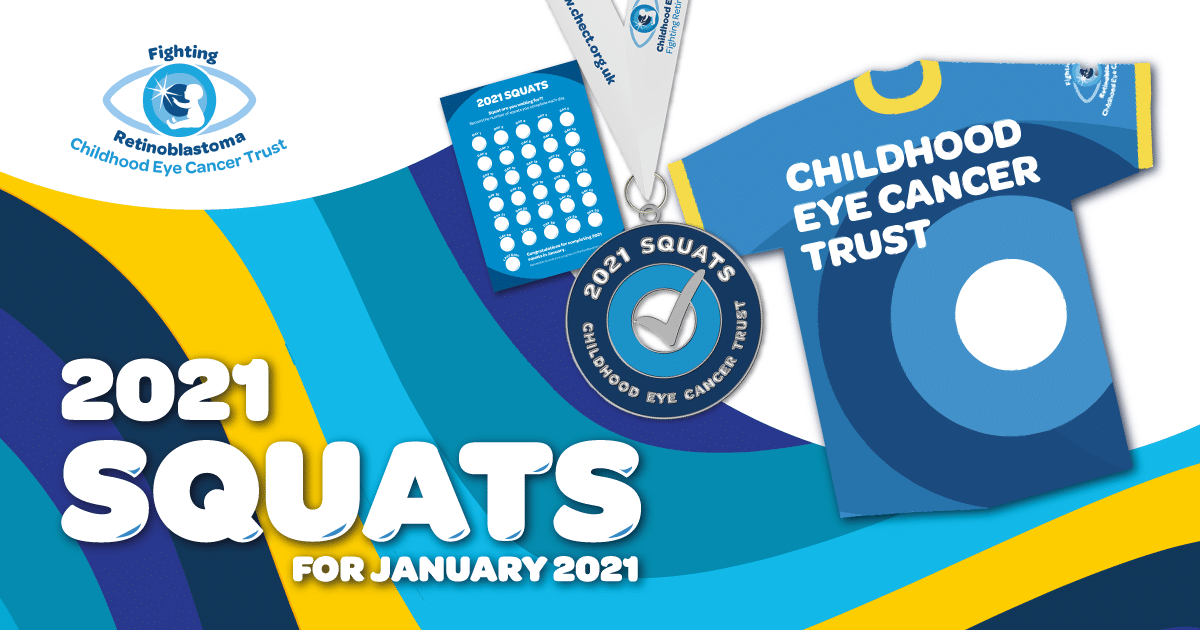 As the title probably suggests, this fun challenge is all about completing 2021 squat exercises throughout January 2021!
Everyone who takes part will receive a free T-shirt and exercise tracker, plus those who raise at least £150 will also get a free medal! Perfect for dusting off those 2020 cobwebs and combatting those ample portions of Christmas nosh we may have all enjoyed a little too much…
We'd love it if you could join in with our Facebook Group Community too!
All profits go back to the Childhood Eye Cancer Trust so that we can continue out vital work in helping families affected by retinoblastoma.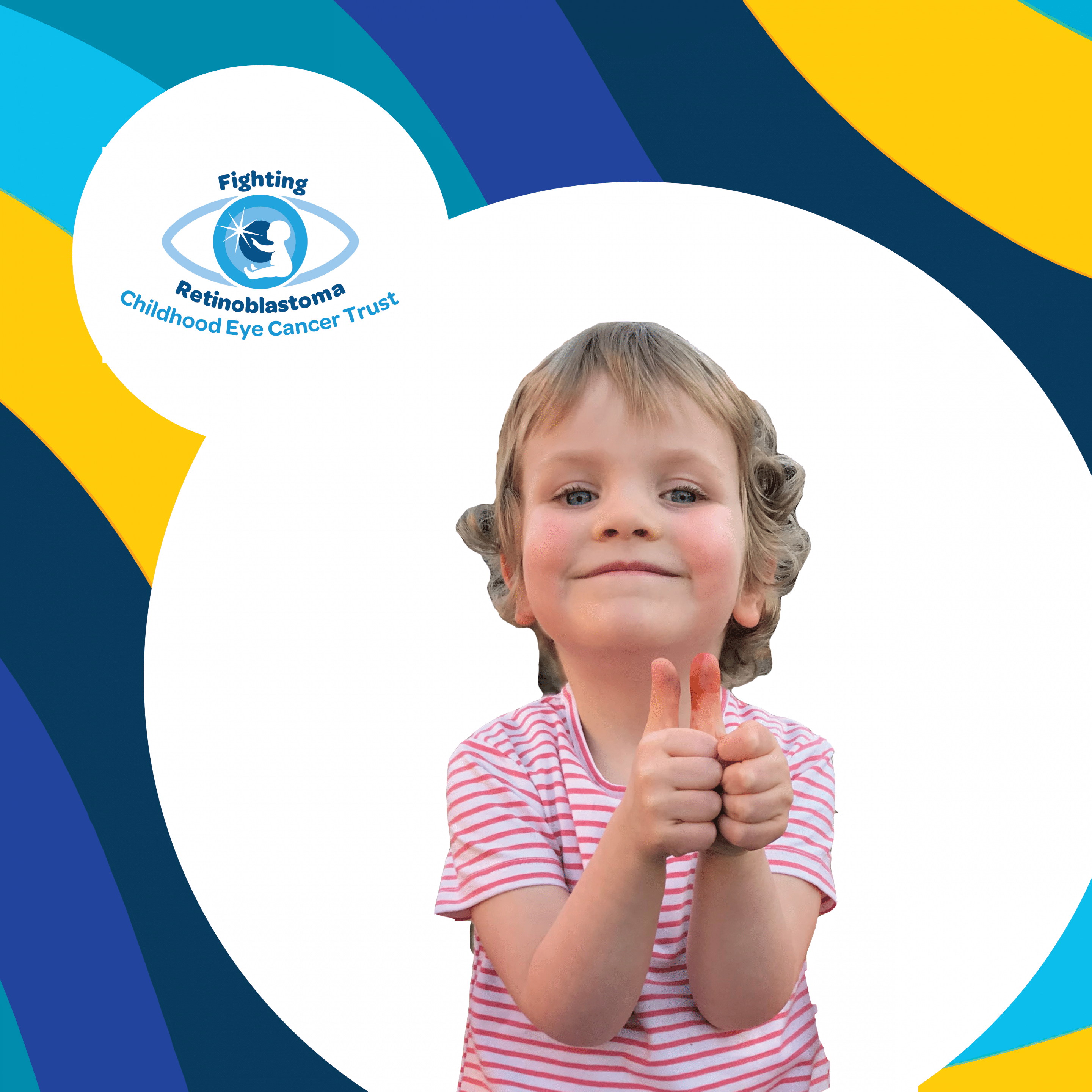 2. Set up your Facebook Fundraiser Page with a fundraising goal of £150. Remember to set your end date to 7th February 2021.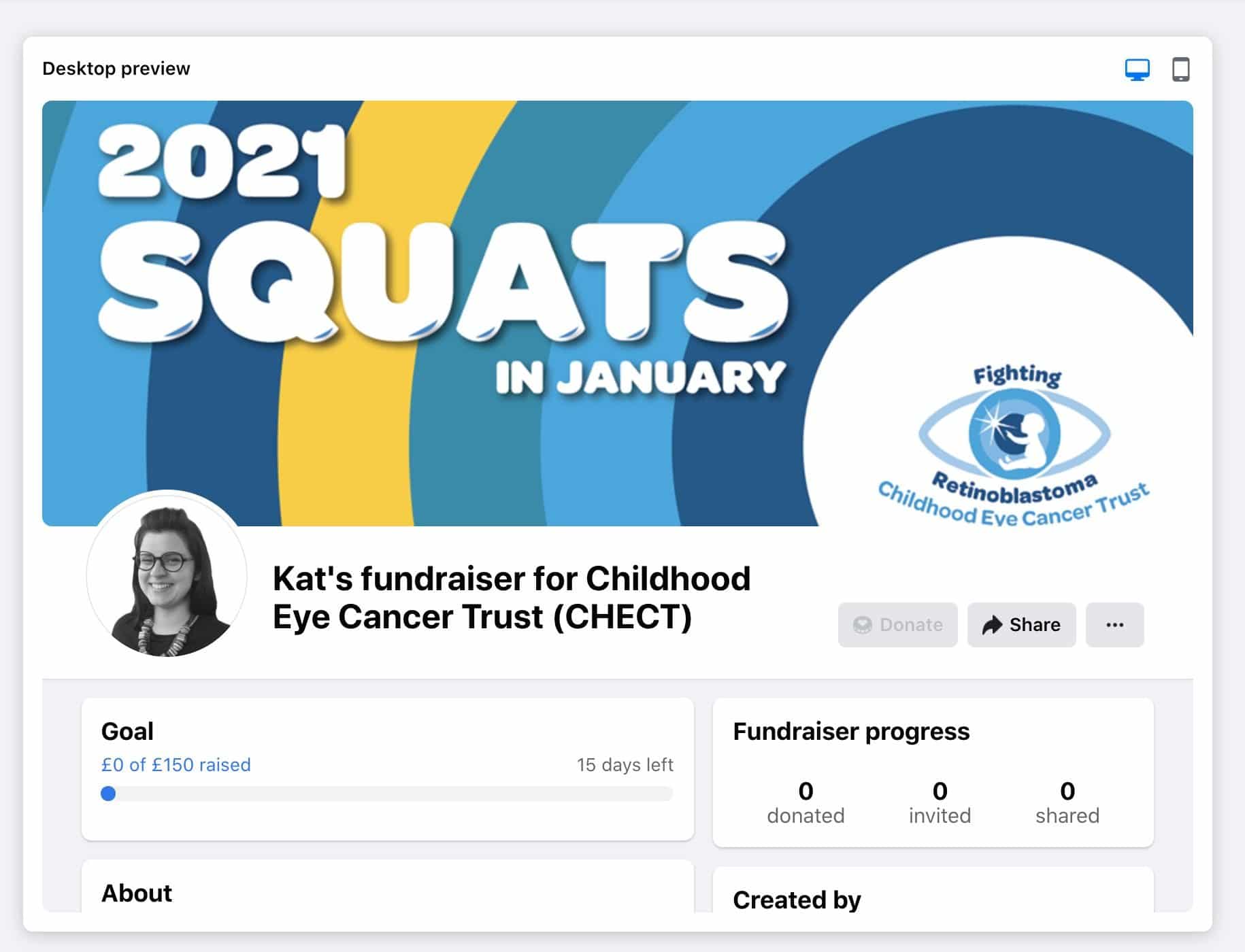 3. We'll then post a link to your Facebook Fundraiser Page with a form to add your free T-shirt order details (allow 24 hours for the link to appear).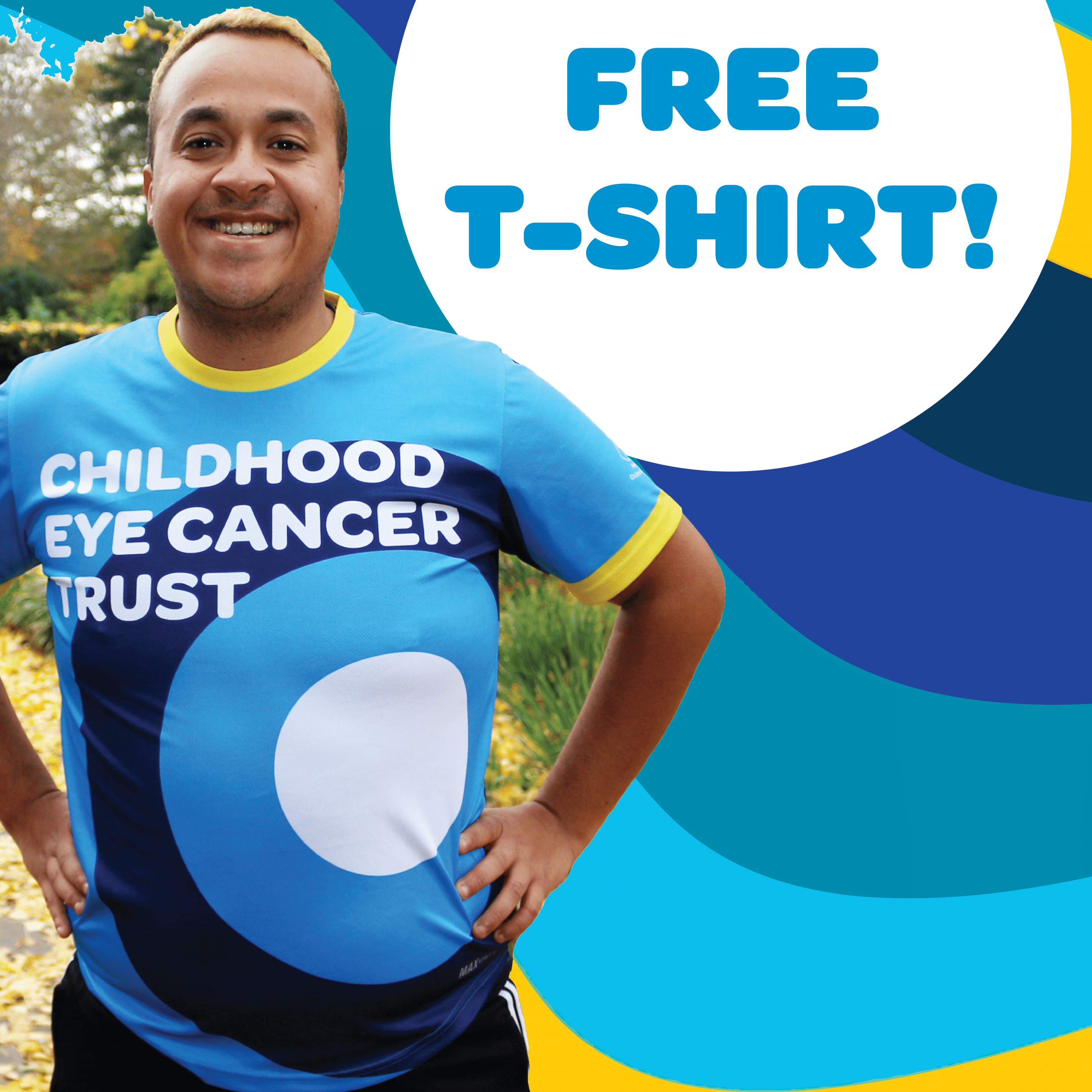 4. Show off your new amazing CHECT technical T-shirt, share your fundraiser so others can donate to your challenge – and get squatting!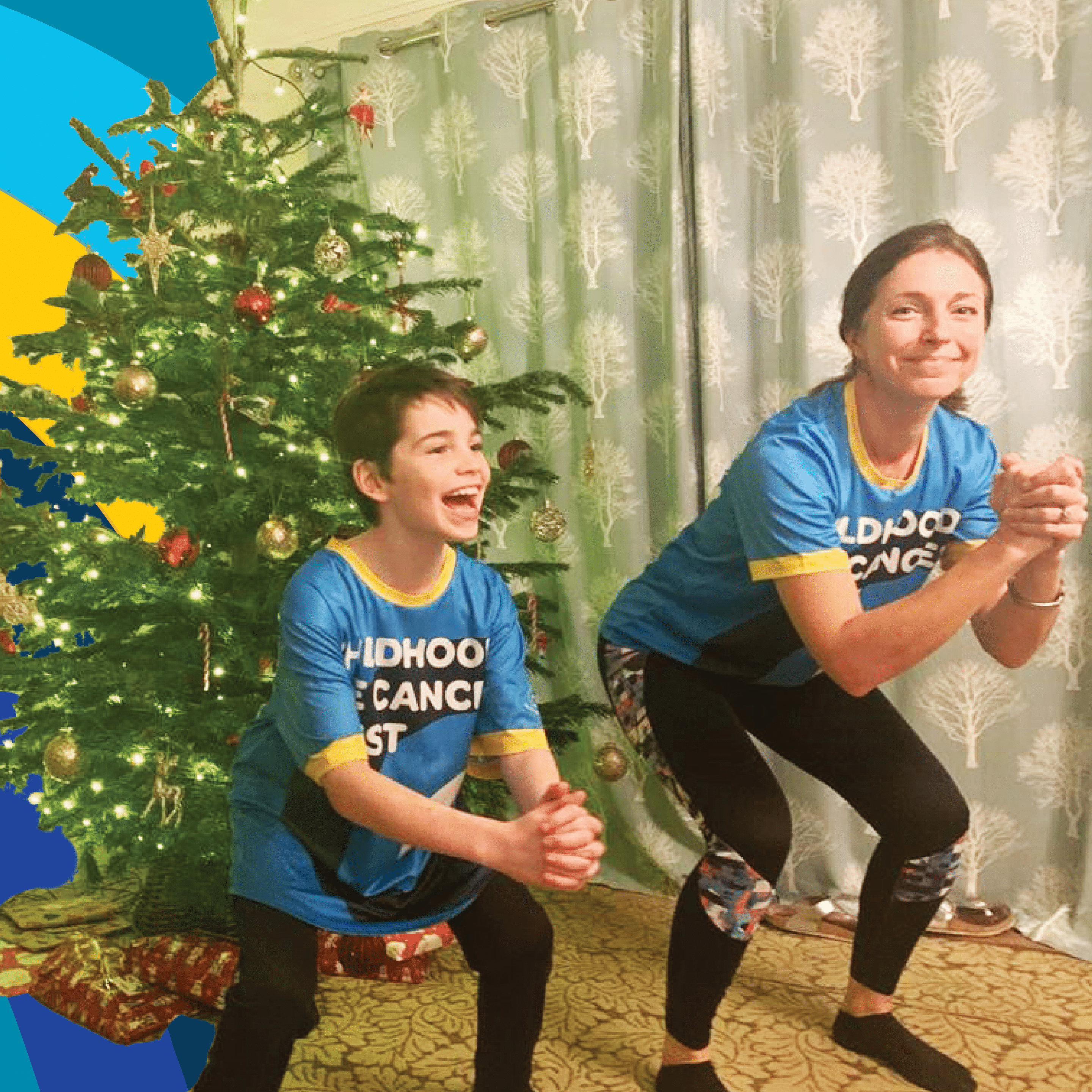 About the Childhood Eye Cancer Trust
The Childhood Eye Cancer Trust (CHECT) is a UK charity dedicated to helping people affected by retinoblastoma, a rare form of eye cancer. We're a small charity which plays a big role in the lives of people affected by Rb. In the last three years:
• 100% of families in the UK were offered support following a diagnosis of retinoblastoma and throughout their child's treatment.
• We provided over 2,000 hours of support to around 525 families each year.
• More than £8,500 was given in grants for 40 families facing financial difficulty because of the expenses related to their child's treatment.
• In feedback 100% of people who responded said CHECT support helped them in their experience of dealing with eye cancer.
About retinoblastoma
One child a week in the UK is diagnosed with retinoblastoma (Rb), a rare form of eye cancer found in children under the age of six.
Although UK survival rates are 98%, around a half of children diagnosed will lose an eye and many more are left with reduced vision. Many children and adults live with the consequences of a delayed diagnosis or the late effects of treatment received. Being affected by a rare childhood cancer also carries a huge emotional impact for everyone concerned.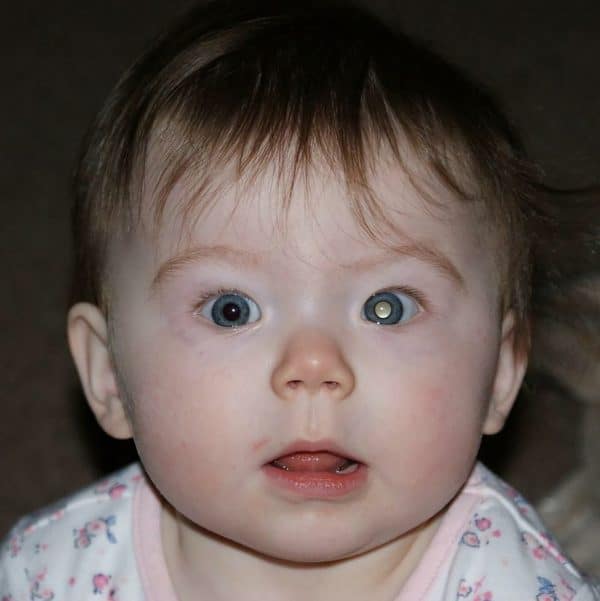 CHECT does important work across four areas: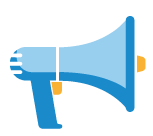 Raising awareness with parents and healthcare professionals so that every child is diagnosed and treated ASAP.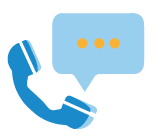 Providing one-to-one support to every family diagnosed with Rb in the UK, as well as to adult survivors.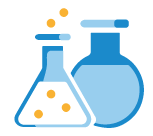 Funding research into the prevention and treatment of retinoblastoma to produce real changes for those diagnosed.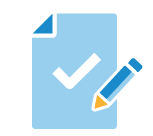 Influencing policy to improve services for patients.