Our young CHECT Ambassadors have been busy this month unveiling newly refurbished Vision Express stores across the UK.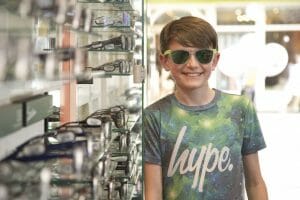 Ten-year-old Tom Ellington from Buckinghamshire, who was diagnosed with retinoblastoma (Rb) at two year's old, was guest of honour this week, officially unveiling Vision Express' new Oxford store.
Noticing at a young age that Tom had developed a squint, Tom's parents took him for repeat visits to the doctor in 2009, before he was referred to a specialist and diagnosed with rb.
Since his son's diagnosis, Ian has been a trustee for CHECT and is now Chair of the charity. Ian explains: "Children get squints a lot, but many parents don't realise that they are one of the most common symptoms of retinoblastoma. Often, they're not picked up by GPs as a symptom because eye cancer is so rare.
"I hadn't heard of retinoblastoma before Tom's diagnosis – I didn't even know you could get eye cancer, especially not in children."
Tom's diagnosis and treatment led to him having his right eye removed, to save his life, and he now wears an artificial eye. Ian explains however, that he is just like any one of his friends and hasn't let it affect his childhood: "Tom loves cricket, running, and playing football – he plays for an under-10's team and he seems to be getting on really well with judging the ball and things like that."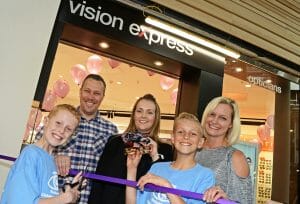 Meanwhile in Sheffield, Samuel Hiley unveiled the newly refurbished Meadowhall Vision Express store with the help of his brother Jonathan.
Samuel, now nine, was diagnosed with retinoblastoma when he was three-years-old. As the tumour in his left eye was so far advanced at treatment stage, he had life-saving surgery to have it removed.
"We first noticed Samuel's irises were a different colour," Samuel's mum Vikki Hiley, said. "One was a darker blue than normal and his left eye seemed to go a brown colour, then eventually red, within a matter of days."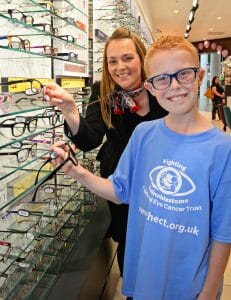 When Samuel was later diagnosed with retinoblastoma at Birmingham Children's Hospital both parents admit they had never heard of the rare eye cancer.
Craig and Vikki have always tried to explain Rb, in a way Samuel can understand and he is now confident when talking about his battle. He has even stood in front of his class at his school and told his story, encouraging his classmates to ask any questions.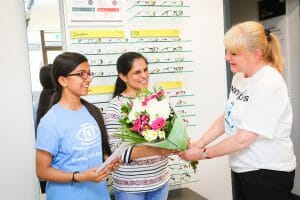 To celebrate the relaunch of her local Vision Express store, and in her role as an ambassador for the Childhood Eye Cancer Trust (CHECT), Kate Bijo Thomas was invited, along with her family, to perform a ribbon cutting of the ribbon, officially opening the newly refurbished Reigate store
Kate was diagnosed with retinoblastoma, a rare form of eye cancer, in 2005 when she was just 12 months old. Kate had life-saving surgery to remove her right eye, followed by chemotherapy treatment.
"We are very lucky that the fantastic doctors at Birmingham Children's Hospital were able to save one of Kate's eyes, even though it had two tumours in it," her mum, Jaisamma Augusthy said. "She only needed half the chemotherapy treatment as well, which was very lucky.
"Kate has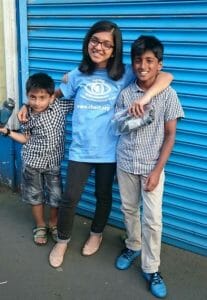 always been very positive towards her treatment and the artificial eye she wears. She took it easily and lives with it well – for her it is a normal way of life. She says she is happy with what she has as she is aware that there are many children who can't even see at all."
The next day Kate had her beautiful long hair cut and donated it to Little Princess Trust, a charity providing real hair wigs free of charge to boys and girls across the UK and Ireland that have sadly lost their own hair due to cancer treatment and other illnesses.
The national optical retailer has enjoyed an award-winning partnership with the Childhood Eye Cancer Trust (CHECT) since 2010, using initiatives to raise awareness of Rb and drive donations for the charity, so they can help more families affected. Vision Express was also the first optician in the UK to roll out a protocol to ensure a quick and effective referral if Rb is suspected.