We have been sad to say goodbye to Dr Trevor Cole and Dr Elisabeth Rosser who have given their invaluable genetics support to so many families over the years. Here Dr Cole and Dr Rosser reflect on their time with the UK Rb services, and we welcome their successors, Dr Alison Foster and Dr Eleanor Hay.
Dr Trevor Cole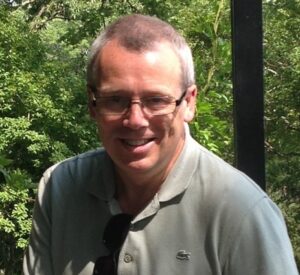 In the mid 1980's as an enthusiastic junior doctor I was excited by the evolving field of clinical genetics and the possibility of revealing the pathway to disease development by understanding the genetics, and through that, identifying novel therapies. As a consultant geneticist in the mid 1990's, having been involved in the establishment of the groundbreaking West Midlands adult cancer genetics service, I found some time and flexibility to work on my other area of fascination and passion: childhood cancer genetics.
This now included working with the Birmingham retinoblastoma team, led at that time by Harry Willshaw, the paediatric ophthalmologist, and Jill Mann, the paediatric oncologist, who had been providing care for West Midlands retinoblastoma patients for many years. Their generosity of support for my early career is something for which I am eternally grateful. They also recognised the importance of genetics in the management of retinoblastoma. Together we put forward, and had accepted by the national commissioners, the case for a second national Rb service in Birmingham.
As the last of the three original Birmingham retinoblastoma consultants to retire, I have had the privilege of working with a wonderful team of medical and non-medical colleagues over the years, one of the many reasons I loved working with the retinoblastoma service.
The second and most important reason I have enjoyed my time with the retinoblastoma service are the children and their families. The strength of the children, the wonderful support and resilience of the families and their willingness to work with the retinoblastoma team is both awe-inspiring and humbling. For me one of the most rewarding parts of my job was meeting the children 15 years later and seeing very positive young adults wanting to understand their condition, succeed in their life and have their own families. They are amazing.
What have I been able to give back to the families? I hope, some time and support, to understand the complexities of the underlying genetics and how they can use this knowledge to achieve some of their own goals. This has been a driver for my remaining contribution to retinoblastoma care; the use of cell free DNA analysis which I believe will change the future of many retinoblastoma families for decades to come, both through NIPD and the development of a liquid biopsy for retinoblastoma.
I will always look back on my time working with retinoblastoma families as the most enjoyable and rewarding part of my career. I wish you all well and good health for the future.
Dr Elisabeth Rosser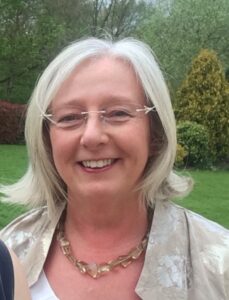 I started as a consultant in clinical genetics in Great Ormond Street Hospital on 1st February 1997 and retired on 31st January 2022 – after exactly 25 years.  When I was appointed, I was told that the job included one day a week working for the retinoblastoma service at Barts, which was a new role in the service. I had trained at Barts so was looking forward to going back there regularly, but I must confess that I had very little experience of retinoblastoma when I began.
When I started the team consisted of Mr Hungerford , Dr Kingston, Mary the play specialist, Penny the nurse and Dr Onadim in the laboratory.  I spent my time for the first few months seeing families who came to clinic and also reviewing the notes of everybody who had been seen in the unit.  This gave me a really useful overview of the experiences that patients had had over the years.
Routine genetic testing was not possible when I started but improved over the next few years.  Initially we were able to offer genetic testing to anyone who had bilateral retinoblastoma or a family history of retinoblastoma, then this expanded to all children and adults with the condition, as it is today.  The time to get results has decreased from many months to several weeks and we are fortunate to have such a dedicated and knowledgeable team of scientists who never give up on anything!
One of the very special things about genetics is that it allows you to see a family for many years. I have now managed testing for new babies for a number of people whom I first met when they were babies themselves. It is always lovely to catch up with families when the children are teenagers and to hear how well those children are doing.  Today's teenagers are very impressive creatures!
I have been very privileged to work with an amazing team of dedicated, knowledgeable people for 25 years. I have also learned a great deal from so many families and hopefully have been able to use what I have learned from colleagues and families to benefit other colleagues and families.
Dr Alison Foster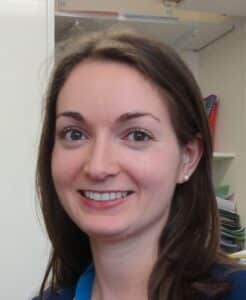 It's lovely to have the opportunity to introduce myself to the CHECT community. My name is Alison Foster and I've recently joined the Retinoblastoma Team at Birmingham Children's Hospital as a consultant in clinical genetics. I trained in Paediatrics and Clinical Genetics in the West Midlands, following a degree in Genetics from University College London and medical training at Newcastle University. I've also spent some time as a research fellow at the University of Birmingham.
My interest in retinoblastoma first began when I became involved in the national audit on genetic testing in retinoblastoma several years ago. It was a pleasure to meet many members of the CHECT community when I presented the results of the audit at a previous conference, and wonderful to see first-hand the brilliant support that CHECT provides to children and families. I look forward to working together with CHECT in the future.
Dr Eleanor Hay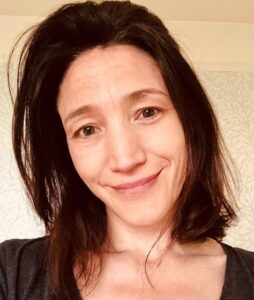 I am an NHS consultant in clinical genetics at Great Ormond Street Hospital (GOSH), specialising in paediatric rare disease and genetic eye conditions. I became interested in translational research while completing a Masters in Genomic Medicine and now work closely with colleagues at GOSH, Moorfields Eye Hospital and the UCL Institute of Ophthalmology, to achieve earlier genetic diagnoses in children with eye disorders, with the aspiration that this will allow increasingly targeted therapies to be offered in the future.
As Dr Elisabeth Rosser retires in 2022 after 25 years as an integral part of the Retinoblastoma service in London, I am excited to be taking the baton and look forward to meeting the families, engaging with CHECT and the wider multidisciplinary team and returning to my Barts and the London Medical School roots.