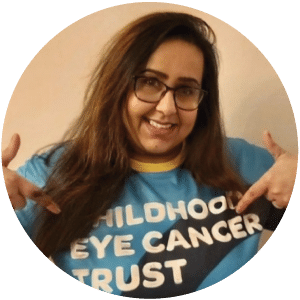 Diagnosed with bilateral retinoblastoma 33 years ago, Aazmeen shares her story of how inheriting the Rb gene has had an impact on her life.
It was March 1987, I was eight months old when my parents took me to the GP who then referred me to an eye clinic based in Wolverhampton. Much to the shock of my parents, the doctor there advised that I could have eye cancer.
I was then urgently referred to St Bartholomew's Hospital all the way down in London. My parents met with Dr Kingston and Mr Hungerford who confirmed the devastating news that I had bilateral retinoblastoma (eye cancer in both eyes).
My mum still believes Dr Hungerford was a "godsend" because he saved my right eye – my family are forever grateful for this, having thought that I could end up losing both. My left eye was enucleated in April 1987 in order to stop the cancer from spreading.
My younger brother Navdeep was born later on that year. Things were different this time – we were aware of the risk of him inheriting the Rb gene and doctors were prepared for him. Unfortunately, Navdeep did have Rb, however doctors were able to treat him with cryotherapy and radiotherapy and thankfully this meant that both of his eyes could be saved.
Mum spent a lot of time with me in London while I was getting my radiotherapy in my remaining eye. We stayed in hospital accommodation for six weeks and returned home in May. Unknown to my parents at the time, the Rb gene was passed to me via my dad – unfortunately he wasn't aware he carried it.
We became regulars at Barts up until I was age ten. We would drive from Wolverhampton to London twice a year and we would always meet Nurse Penny for the dreaded eye drops.
Other than bumping into a few pillars and being really bad at catching in sports, I've had a pretty regular childhood. I've been lucky enough to have a family that's pushed me to do "normal" things and not wrap me up in cotton wool because of my Rb. Nowadays I have a job working in the Finance Team at Birmingham City University.
​
Around March and April time every year my mum would get really upset remembering the hard times in the hospital and the fact that I'd lost my eye. I'd often joke around and say "Mum I am absolutely fine!". I've never known anything else, so I do not feel the loss of losing an eye.
Thankfully my youngest sister did not inherit the Rb gene and neither did my eldest daughter Armanie. To be honest I had no prior interest of finding out about CHECT or more about Rb. Fast forward to 2016…
It was only when my daughter Krïti was born, that I felt my mother's pain. Krïti was born four weeks premature. Blood from the cord was taken, unfortunately she had inherited the Rb gene. I researched more about Rb and we gained so much from Julia at CHECT.
At just three weeks old she had her first examination under anaesthetic and we were told she would need chemotherapy.
Suddenly our world turned upside down and we were feeding her from a feeding tube and living at Birmingham Children's Hospital. Julia was with us every step of the way – whether it was filling out medical forms, or just needing to have a good cry, she was there.
Fast forward 2021. I'm doing the squat challenge with my friends and family to raise awareness and funds for Childhood Eye Cancer Trust. 'Eye'll' be damned! We've achieved our goal of £1,450!
To celebrate, I've done that which I was asked by nearly every classmate at school to do and I've never had the confidence to – take out my prosthetic eye! It has been a big step, something I've been embarrassed about for so long.
Seeing and meeting others connected by this potentially life-threatening disease and having been uplifted by the strength of the young children – I have chosen that from today, I will no longer be shy about my eye!
Whilst we have had a lot of fun doing this challenge, having your child diagnosed with Rb is a harrowing moment that can make the most experienced parent overwhelmed, which is something I realised when my Krïti was diagnosed.
Thankfully the support available nowadays to parent and child alike is brilliant thanks to CHECT – a wonderful charity that supports families and raises awareness.
I have to say a big thank you to everyone who has donated to our family's squat challenge, you've supported us in helping to raise money for CHECT! We also find ourselves once again also being thankful to the support of our NHS and the brilliant Rb Teams at London and Birmingham in their steadfast effort to continue helping families like mine through the pandemic.
If you've been affected by retinoblastoma and want more information on genetics and starting a family, please visit our family planning page. Our support workers Lesley and Sarah are also here to help. You call us on 020 7377 5578 or email them directly: