CHECT has just held its first teenage weekend away – giving young people affected by retinoblastoma the chance to share their experiences with one another and tackle some of the challenges they may be facing. Here teenage members Tor Moore and Lexie Edwards share their thoughts on the weekend.
Usually when CHECT events are organised they are specifically aimed at families – so being the first teenage residential trip away we were naturally sceptical. The idea of spending a whole weekend with people we had never met before dampened our moods and a fun weekend didn't seem realistic.
Most people arrived late Friday evening and sat down for dinner with their families. As parents began to leave it was nice to see who the CHECT teenagers on this weekend were. We got to know a bit more about each other as we played the name game (where you say your name and something you like beginning with the first letter of your name). For example 'my name's Lexie and I like lollipops' or 'my name's Tor and I like trampolining'. This was extremely entertaining as we became stranded, forgetting each others' names. However everyone would help out with a hint to trigger our memories. After we were all acquainted, we learned who we would be spending the next two nights with and went to our rooms, for a good night's sleep.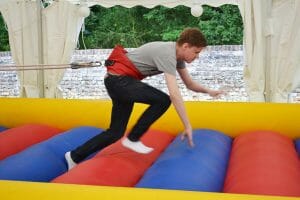 The following morning, we woke to a bright, blue sky. We got dressed and headed to breakfast, where we found out what the day's activities would be. We walked out to the field and entered a large marquee, which contained a huge, inflatable bungee run. Initially, we felt quite apprehensive as we weren't quite sure what to expect. However, we soon discovered how hilariously fun it was! A quick summary of a bungee run would be two people attached to a stretchy rope, who have to run to opposite ends of the bouncy track, in order to transport Velcro discs from one end to another.
Even though it was a lot of fun, it was also really quite challenging. We quickly discovered that it would not be as easy as we had initially thought because as one person runs, the other is immediately catapulted back to the centre. It needs a specific technique which we didn't uncover until the very end whereby one person runs out to attach their disk and the other one stays still and as they run back, the other runs out to attach their disk.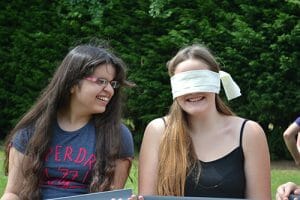 After this, we put on some blindfolds and got into two teams. This next game gave the partially sighted people an insight into what it would be like to have no vision at all and let us tell you we were hopeless! The people with the least amount of vision out of us were at a definite advantage having had to cope with it for so many years! We each had a length of drainpipe in which we needed to connect to one another's in order to pass a tennis ball smoothly down without letting it fall. We had to repeat this three times and luckily our team won! We quickly snapped a smug victor's photo as the losing team exchanged looks of defeat.
Once the drainpipes were collected in, we sat down for a quick talk about medieval archery. It was fascinating to see how heavy the armour and bows they used to use were! However, luckily for us, we used much more modern bows which were a lot lighter.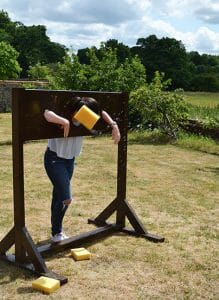 The next activity was definitely the funniest. Members of each team were put into the stocks where we threw soaking wet sponges at everybody. Surprisingly, it was much harder than you may think to aim for a person's face, much to our annoyance and we didn't manage to hit anybody square on.
For lunch we were given a 'build your own sandwich selection'. After lunch we all relaxed in the glorious sunshine (some of us hoping for a tan!) and then played some team games in the chapel. The day had gone by so quickly due to our constant laughter and fun that we were shocked when dinner came by so quickly. The phrase 'time flies when you're having fun' definitely applied to this weekend.
After dinner we sat in a circle and played the bongo drums and Lexie played the guitar whilst one of the others sang a heart-melting rendition of Ed Sheeran's 'I see fire'. We then went and toasted marshmallows around the fire to make delicious smores (melted marshmallows' sandwiched between two chocolate biscuits) and had another round of songs including 'Wonderwall' by Oasis and 'Blank Space' by Taylor Swift which was obviously very popular among the girls (and some of the boys who didn't want to admit that they knew every word and couldn't help but sing along to the catchy tune!)
When it became dark, we went inside to the sitting room where we all excitedly belted our hearts out to High School Musical. There was so much laughter as we sang making silly snapchats of each other that there was not one face in the room which wasn't smiling. Once again bed time was soon upon us and the thought of leaving the following day saddened us all.
The next morning the sky was not so blue yet everyone was surprisingly cheerful for 8am! After breakfast, some of us took part in a video where we shared our personal stories about our experiences with retinoblastoma whilst the others designed a CHECT coat of arms.
Once lunch had ended we all began to depart and say our sorry farewells all sad to see the end of a fabulous weekend.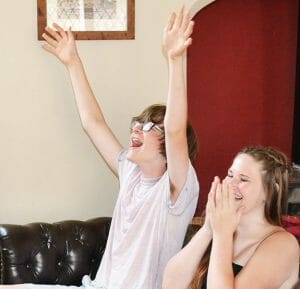 Looking back, we never thought that when we came we would make so many lovely friends with whom we share such a close bond with but now all eight of us are in constant contact via social media. We have all shared our stories and everyone had something different to say, because like we are always told everyone is unique. We really feel that our confidence has improved and you must always remember you are never alone. Not only is there a great support system by CHECT, but there are also people who have gone through the exact same things as you. We are both so excited for the next teenage weekend whenever that may be.
Tor and Lexie