A mum is urging other parents to look out for the tell-tale signs of eye cancer after her 8-week-old daughter lost her vision in her right eye through retinoblastoma, a rare cancer that typically affects children under the age of six.  
Mum Lorna Lloyd, from Barry in Wales, spotted an unusual white glow in her then 8-week-old daughter Imogen's eye – a common sign of eye cancer which is often only seen in certain light.   
Mum Lorna said, "Her right eye looked milky white in certain lights. At first it was only some of the time, but very quickly it was visible more often than not. By the time she was diagnosed, her right eye was also larger than her left and appeared to be bulging. Looking back, her left eye had an obvious squint, but being first time parents, we assumed it was a normal part of our newborn baby's eyes developing. She was reluctant to turn her head to the right – we later found out this was because she had no sight in her right eye".   
 Lorna added, "Somewhere in the back of my mind I could recall something about a white glow being a sign of retinoblastoma, and our Google searches kept bringing the word 'cancer' up, so it was on our radar. I'm not sure whether we were naive or in denial by this point, but you never really want to believe it could be the worst-case scenario."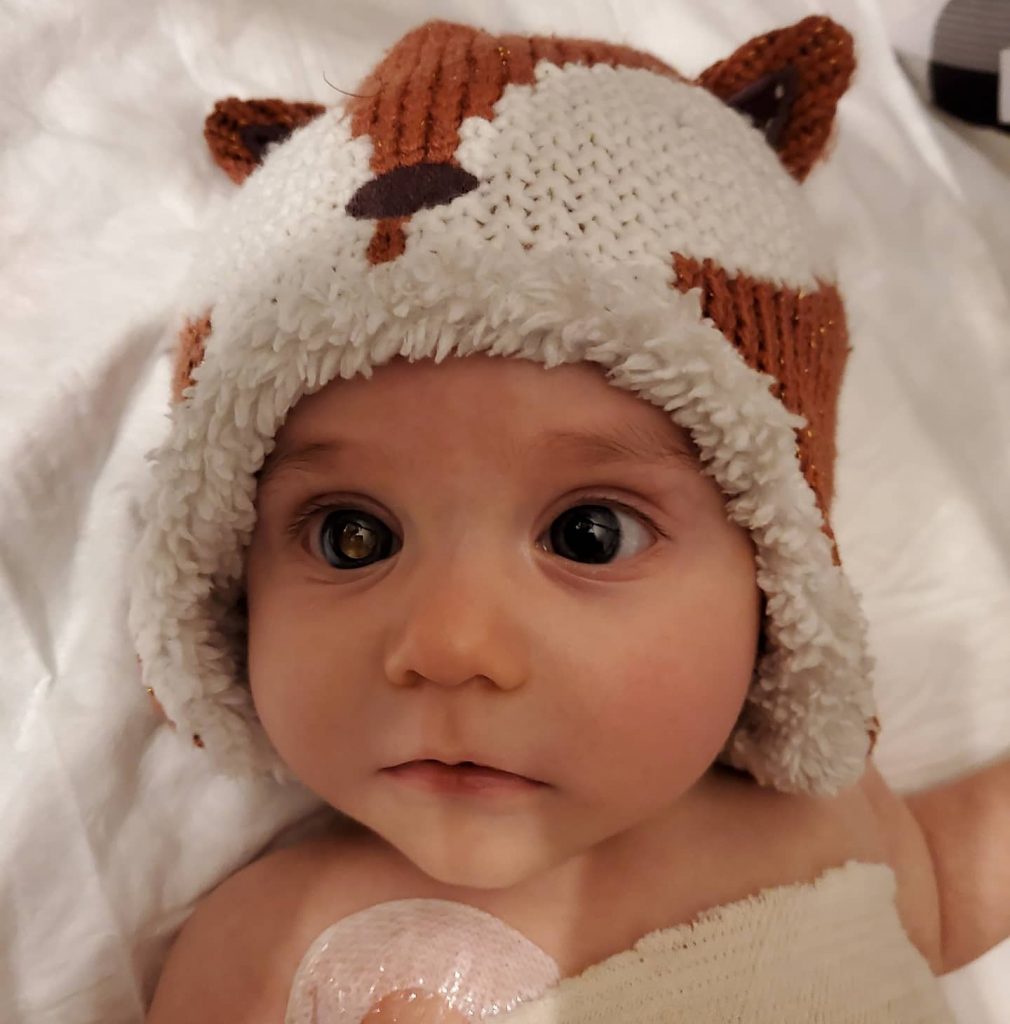 Imogen's parents' Lorna and Mike booked a doctor's appointment straight away after noticing the symptoms, and luckily their GP urgently referred Imogen. The referral appointment involved an ultrasound, where it was immediately clear that something wasn't right.   
 Lorna explained, "I was looking at some obvious masses in her eyes on the screen. Her right eye didn't even show different masses - it was all just white. The consultant broke the news that Imogen had bilateral retinoblastoma – cancer in both her eyes."  
 Lorna recalled, "I remember feeling absolutely devastated that our tiny baby could be facing something so huge, and absolutely furious that it was happening to her, and to us. The rest of the appointment was a blur, but I remember feeling like my heart had physically broken and trying desperately to take in all the consultant was telling us."   
Imogen and her parents travelled to Birmingham Women's and Children's Hospital a week later to meet with the specialist retinoblastoma team and have laser treatment. Her consultant disclosed that Imogen's right eye had a complete retinal detachment, and her left eye had multiple tumours. Imogen could only see light in her right eye (something she lost a few months later) and the vision in her left eye was obscured by the two main tumours covering the centre of her eye. The family were told that her best option was to start systemic chemotherapy as soon as possible.
After extensive testing to make sure that the cancer hadn't spread outside of her eye, Imogen began the first of six rounds of chemotherapy in December. She had further laser treatment after Christmas, and another round of chemotherapy on New Year's Eve.  
Lorna explained, "The team were pleased with how her left eye was responding to treatment, however her right eye was proving trickier as her main tumour was still too large to allow her retina to reattach. The teams in Birmingham and Cardiff were also concerned about the effect treatment was having on Imogen's weight, so in February she was fitted with a feeding tube.  
"After the fifth round of chemotherapy, the team still weren't happy with the way the right eye was responding to the chemotherapy, so they decided to try radioactive plaque therapy to see if they could shrink her main tumour and kill off the new tumour seeds which had developed. Due to the plaque containing a small amount of radiation, and because she had MRSA, we had to stay in isolation for the whole time we were in hospital, which was tough on her, tough on me, and tough on Mike who had to wait alone in a hotel across the street."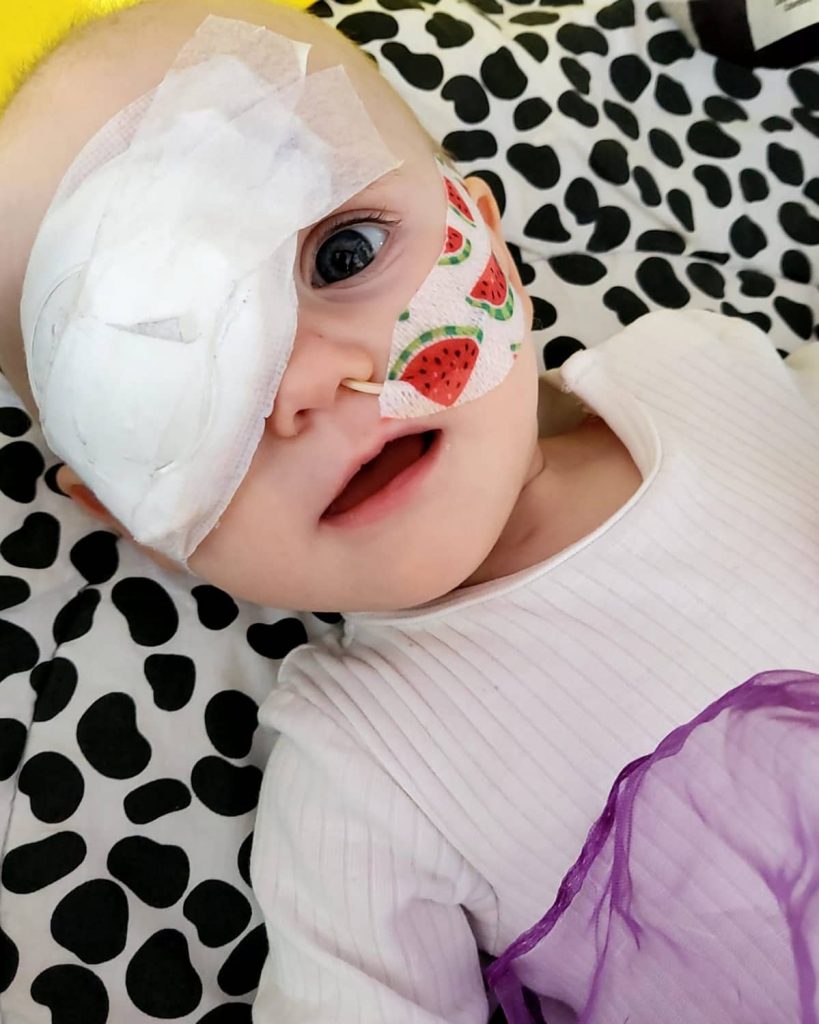 Over the next few sessions of treatment, it became apparent that her tumour was still too large for her retina to settle on its own. Imogen's consultant asked a retina reattachment specialist to look at her right eye but unfortunately, he deemed her main tumour too tall to manually reattach her retina.   
Lorna said, "The decision was taken to try three courses of intravitreal chemotherapy injections into Imogen's right eye. By the third lot of chemotherapy Injections, her right eye was showing signs of responding well to the treatment, however only a few weeks after stopping treatment, it was back to showing signs of activity again which was really worrying. We felt like Imogen never managed to catch a break, and just wanted her to be able to have a bit of normality."  
While Imogen was under anaesthetic for the procedure, her consultant found that her tumour had started to calcify and respond to the combination of treatments Imogen had endured over the months.   
Lorna explained, "We were amazed - although slightly cautious - we were used to having the rug ripped out from underneath us by this point!  
 "After Imogen's first birthday, tests showed her eyes were stable – needing only a small amount of laser treatment – so we were able to breathe a sigh of relief."  
 Lorna added, "Our most recent trip to Birmingham in October brought more amazing news; the retina in her right eye had spontaneously reattached itself! Upon hearing those words I promptly burst into tears of disbelief and relief. Our girl finally had a run of good luck, and an attached retina means a smoother treatment journey for her.  
"Moving forward, Imogen will continue to receive regular treatment in Birmingham, and the hope is that any new tumour seeds she develops will be easy to laser as soon as they appear."  
Although Imogen is still having regular testing and treatment, she also contends with issues relating to depth perception.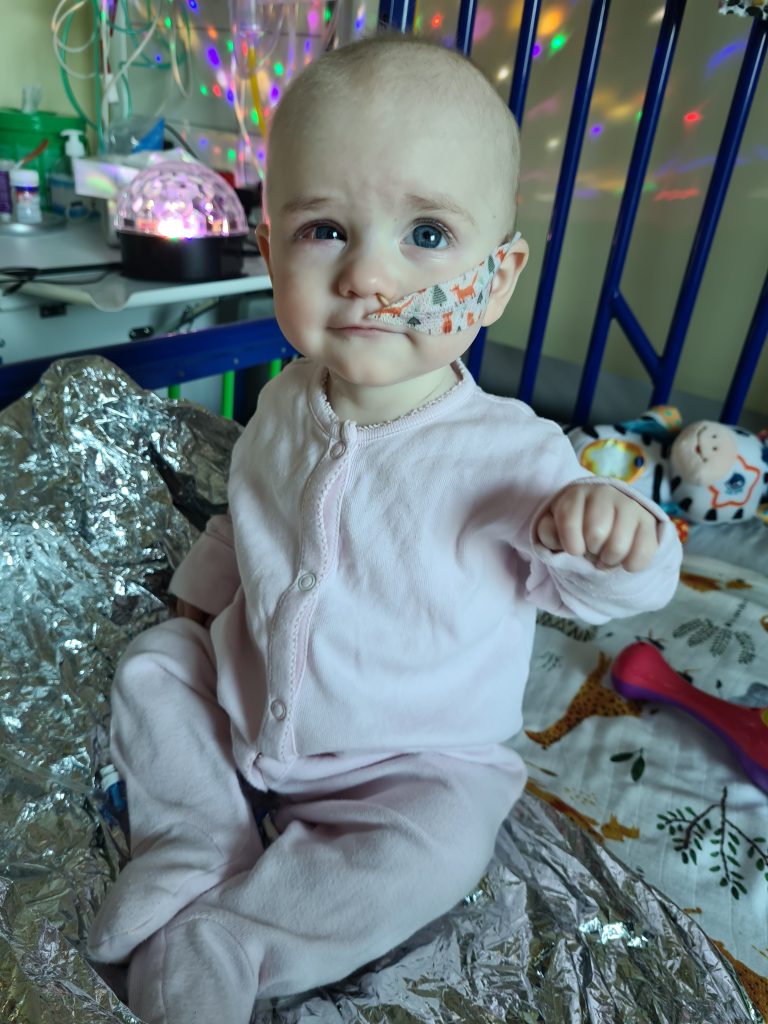 Lorna said, "Imogen coped with her reduced vision incredibly well. She has some understandable depth perception issues, but she is incredibly determined and hasn't let it hold her back at all.    
"Imogen has always been fascinated by lights. Around the time of diagnosis, this was because lights were all she could really see, however as the vision in her left eye has opened up, her love for them is still going strong! The staff in Cardiff used to bring in a disco light for her room when she had chemotherapy which she loved."  
The family are full of praise for all the teams who have worked with Imogen during her retinoblastoma journey to date, however, as Imogen was diagnosed with retinoblastoma during the Covid pandemic, the family often struggled to cope with the effects of the Covid measures in place.  
Lorna explained, "Covid has massively impacted our treatment journey, in multiple ways. The obvious and most impactful restriction has been the one parent rule - aside from our initial Birmingham appointment, and the occasional time when Mike has been allowed into a meeting to discuss bad news, all of Imogen's hospital appointments have been attended by me alone whilst Mike has to wait in a hotel room across the street, or sit in his car in hospital car parks.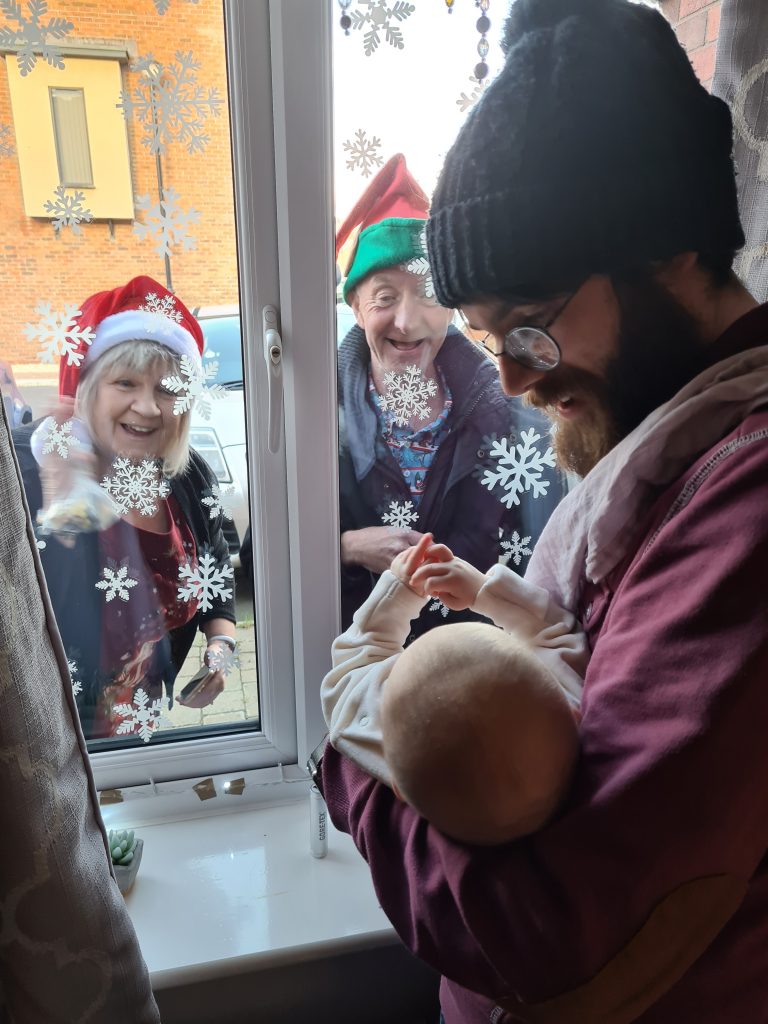 "Covid has also had an impact on physical support from family and friends. During one of the darkest times of our lives, our family have been forced to watch from the side-lines, unable to provide the practical support needed to allow us as parents to solely focus on our sick child. They have been forced to go months without seeing Imogen as the risk of Covid was too high for her as she was immunosuppressed, alongside local and national lockdowns prohibiting travelling. Mike's parents were able to drop food parcels on our doorstep and wave at Imogen through the window, which was a real lifesaver, whilst my parents who lived too far to be allowed to travel provided comfort and support via video calls, but it's hard to think about how different it could have been if Covid wasn't an issue."
Imogen's parents Lorna and Mike were originally due to get married in April 2020, but this was postponed due to Covid and the national lockdown.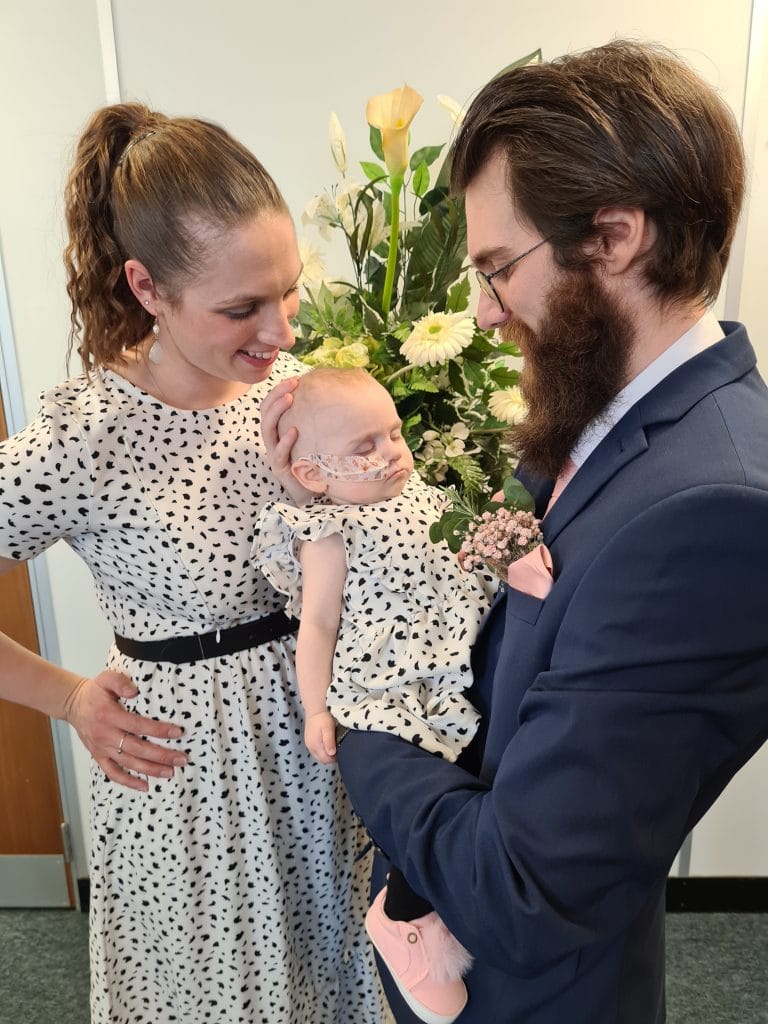 Lorna explains, "We decided to go ahead with our second wedding date in February 2021 and felt it was extra special to be able to have Imogen there with us. Due to local lockdown at the time, we were only allowed two witnesses and no guests.  
"Imogen hadn't been very well the morning of the wedding so we the rang the Rainbow ward at Noah's Ark Children's Hospital in Cardiff, who said it was best to bring her in that afternoon to get checked. We got married at 1pm and by 4pm we were back on Rainbow ward!   
"We walked into daybeds still wearing our wedding clothes (they had said we could both be there as the rest of the daybed patients had gone home for the day) and were greeted with confetti, balloons, banners and cake! The staff had gone all out to ensure we were still able to celebrate being married, despite having to be in hospital! Imogen loved the fuss (and the disco light they had set up for her), and after being checked over by the doctor the decision was made for her to be admitted for fluids and observations. Imogen and I stayed two nights in the "Honeymoon suite" - or just room 9 as its normally known as - whilst Mike returned home. It wasn't how we pictured our wedding day, but we are just grateful that Imogen was ok!".  
Lorna said, "Mike and I have learnt to lean on each other throughout the last year more than ever before. Imogen has been our light. Despite everything she has had to go through, she is such a happy, mischievous, determined little girl. Watching her thrive and defy her cancer on a daily basis makes us so proud, and gives us the strength we need to keep putting one foot in front of the other."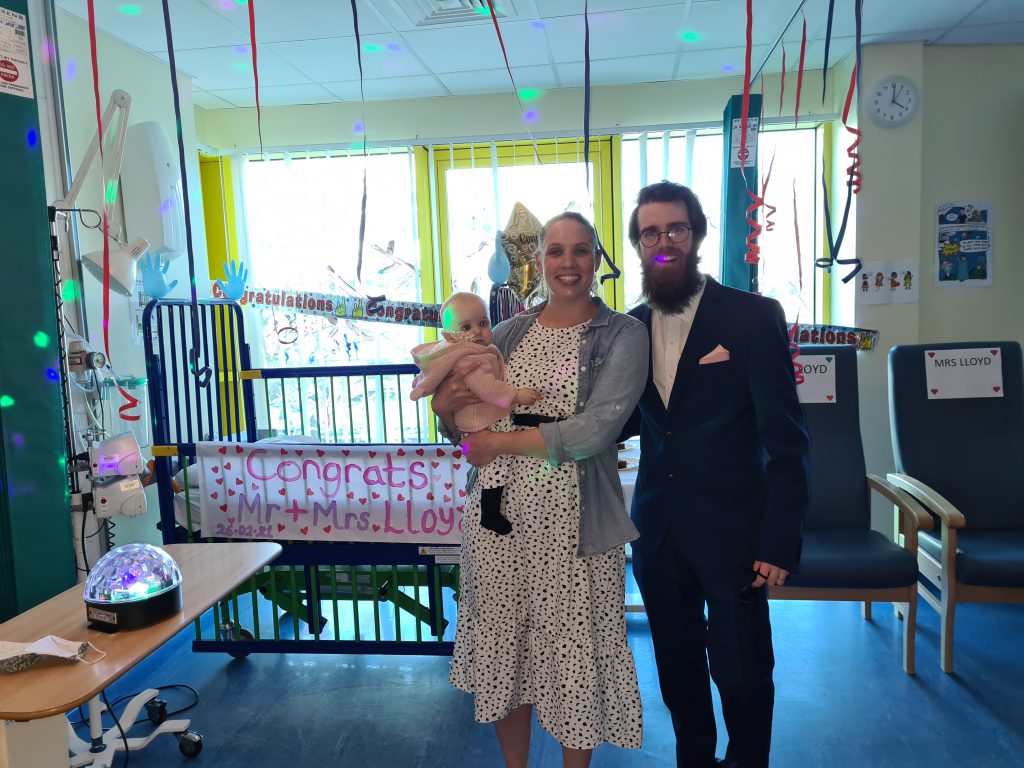 Imogen is currently attending Birmingham Children's Hospital every four weeks for eye examinations under anaesthetic, alongside laser treatment. She will need to continue her regular trips up to Birmingham for the foreseeable future to monitor her eyes for new tumour growth, or potential activity in her current tumours.    
Lorna said, "We have so many people who have supported us over the last year that we would like to thank. The whole of the amazing retinoblastoma team in Birmingham. Their knowledge and understanding were evident from the moment we stepped onto the ward, and I have complete confidence in them and their care for Imogen.   
"The incredible staff on Rainbow ward at Noah's Ark Children's Hospital in Cardiff, including the play specialist who single-handedly kept me sane when I was in with Imogen for chemotherapy.   
"Sarah – the support worker from the Childhood Eye Cancer Trust (CHECT) - always has a friendly face, a listening ear, and often a cup of tea. Those things are invaluable when in hospital with Imogen and made such a huge difference to my morale!   
 "And finally, our family and friends who rallied round and supported us in any way possible during all of the Covid lockdowns, and in particular all those who got behind the #TeamImmy initiative and donated blood."  
Lorna said, "On the 28th November it will have been a year since diagnosis.  It's really hard to think back to this time last year when we had no idea how close we were to having our whole world turned upside down. It would be really easy to see the 28th November as a day to be sad, but we are trying to see it as a day of celebration. Celebrating all that Imogen has overcome, celebrating how incredibly strong she is, and celebrating the fact that, due to her being diagnosed and subsequent treatment, we are still able to have our beautiful, happy girl here with us."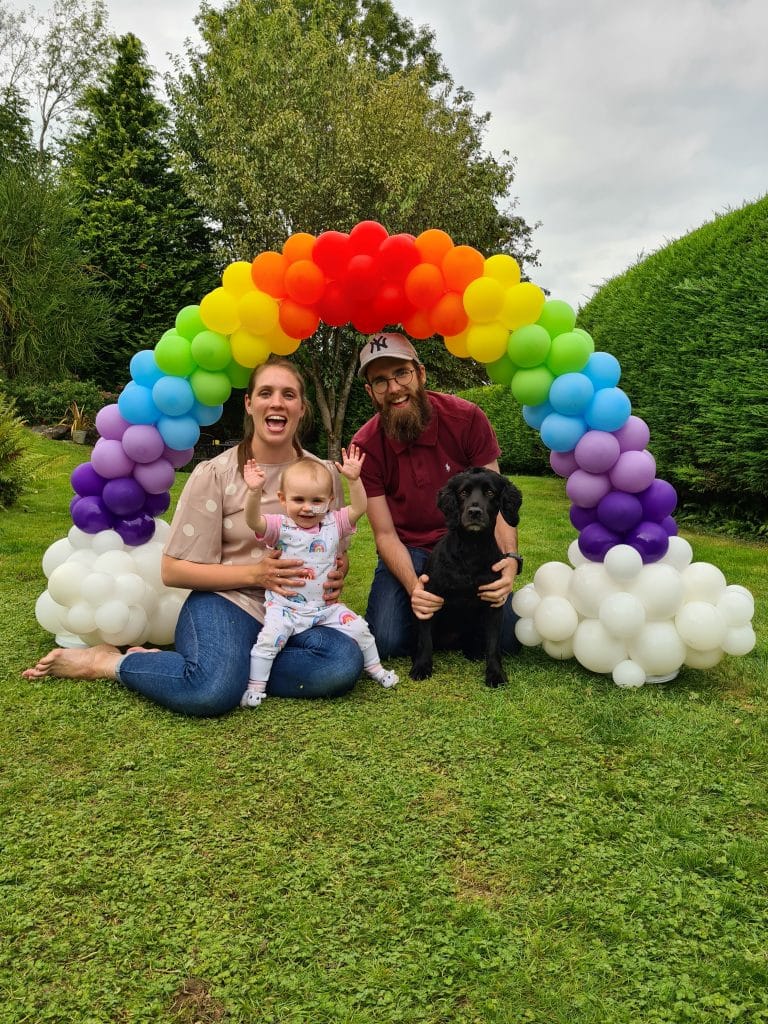 In a message to other parents, Lorna said, "It's ok to worry if you spot the signs of retinoblastoma but use that worry to push to get their eyes checked out. There's never any harm in taking your child to the GP for a second opinion if you're concerned, and chances are that it is absolutely nothing, but there is always the chance that it could be something. So trust your gut."    
As the days grow darker and flash photography may be used more, the Childhood Eye Cancer Trust (CHECT) are urging parents and healthcare professionals to be aware of the most common possible symptoms of eye cancer – a white glow in the eye in flash photo or other certain lighting conditions and a squint.   
Patrick Tonks, Chief Executive of the Childhood Eye Cancer Trust said: "Retinoblastoma is rare, with around one baby or young child being diagnosed in the UK each week. Symptoms can be quite subtle, and children often seem well in themselves which can make it hard to diagnose. Sadly, in just under half of all cases, a child has to have an eye removed as part of their treatment. 
 
"We are extremely grateful that in Imogen's case, her symptoms were recognised, and her GP made an urgent referral so that she could undergo treatment."    
For more information on the signs, symptoms, and treatment of retinoblastoma, please visit chect.org.uk.