In 2012, as part of our aim to reduce the delays in diagnosis of retinoblastoma (Rb) experienced by some families in the UK CHECT began to collect information from parents we called 'Pathways to Diagnosis'.
This information was gathered by support workers during the course of their conversations with newly diagnosed families, and focussed on whether the families had any prior awareness of retinoblastoma; the signs they noticed in their child's eyes that prompted them to seek help; and the actions taken by the healthcare professionals they consulted.
Very quickly it became apparent that the range of experience was huge: from families who were referred to one of the two specialist Rb centres in the UK within days of noticing their child's symptoms; to families who spent over six months and numerous visits to various healthcare professionals before anyone recognised the significance of what they were reporting, or carried out the appropriate tests and made appropriate referrals.
Recording these experiences in a quantitative way in turn allowed CHECT to refine our messaging to address those areas where it was most needed: not only to alert parents of young children, but also GPs, health visitors and opticians to the main signs and symptoms of Rb, and the need for urgent examination and onward referral.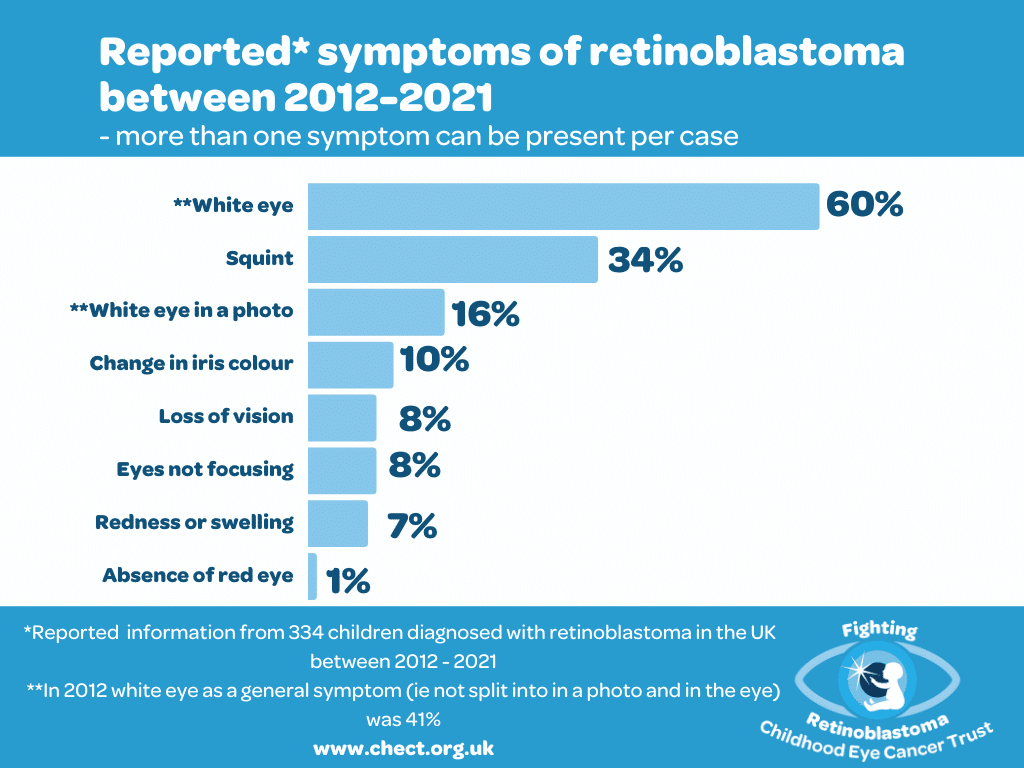 Over the ten years of Pathways to Diagnosis, we now have information from 334 families. This is important because it evens out some of the annual fluctuations that will inevitably occur because of the small number of children diagnosed each year, to reveal the more general trends for families in the UK.
Overwhelmingly, a white glow spotted in the child's eye (rather than in a photograph), is the most common symptom parents report noticing at 60%. The survey also reveals however that the lesser-known symptom, a squint, was reported in over a third of cases (34%). This has caused CHECT to put much more emphasis on promoting the need for every squint to be checked to rule out Rb.
As we already knew from anecdotal reports from parents, there was significant variance in the number of GPs making appropriate referrals for children with symptoms of Rb. This is an area where there does seem to have been an improvement overall: in 2012 just 28% of GPs who saw a child with Rb made an urgent referral; in 2021 this was 59%.  Of course, there is still lots of work to do here, but it's an encouraging trend nonetheless.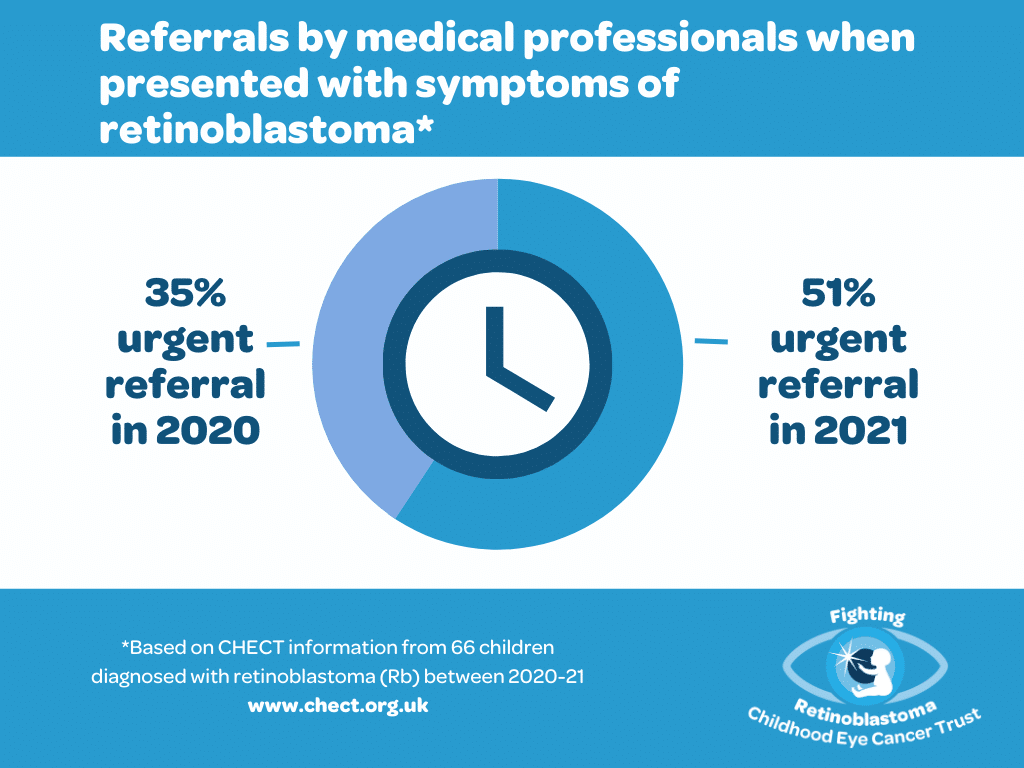 Opticians are consistently a good route for referral, with 73% over the past ten years making appropriate referrals, and we continue to work with high street opticians to encourage them to see young children and babies where signs of Rb have been spotted (as some opticians do not routinely see very young children).
During the pandemic, as we had feared, the huge pressures on the NHS and the lack of face-to-face appointments did seem to impact on the referral of children with suspected Rb. The number of children who took over six months to receive a diagnosis at one of the Rb centres rose to 24% in 2020 against the ten-year average of 11%, and was the highest figure since the survey began. This does appear to be an unusual year however, with just 8% of children with Rb in 2021 taking over six months to receive a diagnosis.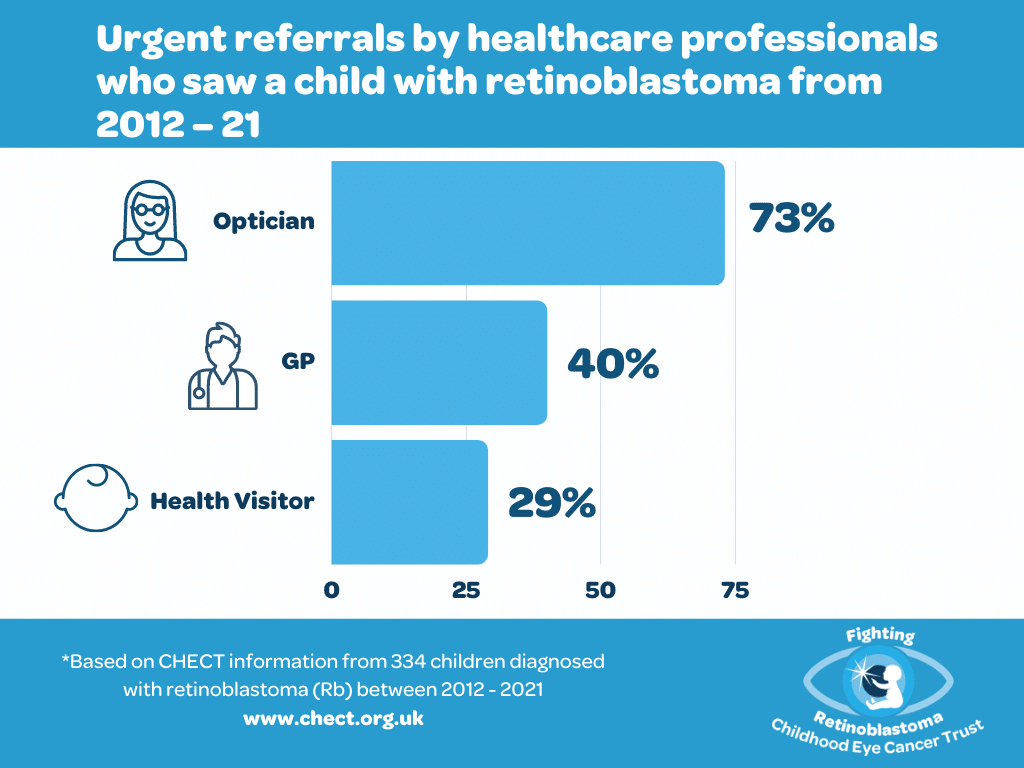 Thanks to hard work by our various communications managers over the years, and the families who have so kindly shared their stories, awareness of retinoblastoma amongst parents of newly-diagnosed children has increased from 15% in 2012, to 22% in 2021.
Although Pathways to Diagnosis has always been designed as a snapshot, or an indicator of trends in diagnosis in the UK, as you can tell, it has been an important part of the resources we use to help CHECT achieve its aim of raising awareness of Rb in order to aid earlier diagnosis. So we'd like to say a huge thank you to all the families who have been involved since 2012; sharing your experiences so generously with us in order to help future families.