Twelve-year-old Olivia Harrison from South Yorkshire has received a black belt in Taekwondo after a 4-and-a-half-year journey in the martial arts sport.
Olivia Harrison was just three and half months old when she was diagnosed with bilateral retinoblastoma (Rb). She had chemotherapy and her right eye was enucleated at 6-months-old, however she has not let that stop her from getting involved in martial arts.
Olivia began Taekwondo as she wanted to learn self-defence – and she has made lots of friends along the way. Although Olivia gets nervous before a belt test, she needn't have worried as she earned her black belt and celebrated afterwards by going to the cinema with her family. She now aims to keep progressing, with her mum Jane Harrison stating that "this is where the journey really starts".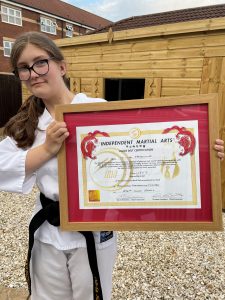 Jane says, "Olivia has an artificial eye so her depth perception is affected by this, she has to be careful with sparring and her opponents are advised nothing to her head area when they spar with her". She adds, "One thing Olivia has always done is adapt and we adapt to her. I train with her too and am also a black belt.".
Olivia, who was diagnosed with autism last year, continues to act as an inspiration for many who would like to try a new sport. Jane says, "she has a double whammy of things to deal with but doesn't let either define her."
Protective eyewear
To learn about protective eyewear for sports, visit out article on protective eyewear for children with monocular vision.
---
If you've been affected by retinoblastoma and want more information on how to safely partake in sports, please contact your Rb team, or our support workers Lesley and Sarah are also here to help. You call them – Lesley 07471199809/ Sarah 07526594762 or email them at: support@chect.org.uk