After her baby girl was diagnosed with a rare cancer, a mum is urging parents to be aware of the symptoms and to see a medical professional as soon as possible.
Dela-Rose Denham was just five months old when she had her life-saving operation to remove her eye, after a cancerous 'white glow' was spotted in a chance flash photo.
Parents Shelby Simkins and Ryan Denham, from Dover, are teaming up with the Childhood Eye Cancer Trust to raise awareness of this rare cancer, at a time where parents may feel anxious about seeking medical advice due to the pressures of COVID-19.
Retinoblastoma (eye cancer) mainly affects children under the age of six. The two main symptoms are a squint – where the eyes don't point in the same direction – and a 'white glow' in the pupil of the eye, sometimes only caught in certain angles and lighting conditions.
Dela-Rose had a squint from birth, which Shelby mentioned at Dela-Rose's six-week check. However, as squints are common in babies, the parents were told that they shouldn't be concerned. It was only when Dela-Rose was about three months old when mum Shelby took a flash photo that she spotted something unusual in her baby girl's eye.
Shelby said: "By chance, she was lying back on Ryan's knee when I snapped a photo on my phone. We noticed that one of her eyes was red and the other was silver. We thought that it was likely to be the light reflecting off her eye because of the odd angle the photo was taken at, so we didn't think too much about it, but it was always in the back of my mind."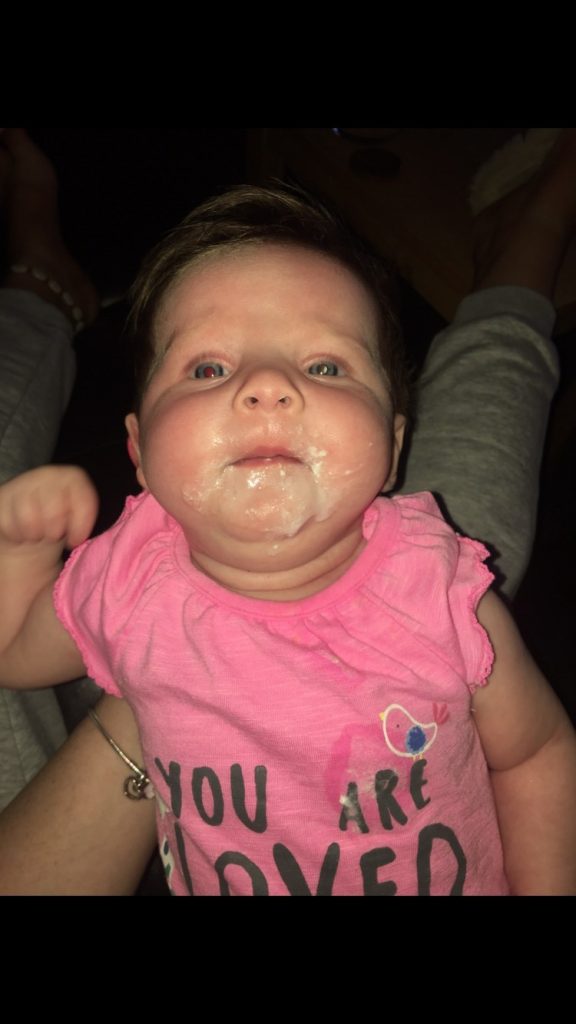 Around a month later in September 2019, Dela-Rose had a routine appointment with her GP. The GP acknowledged that her squint was rather pronounced, which was no cause for immediate concern, but suggested that the couple take Dela-Rose to be seen by an optician for a thorough check after Shelby mentioned what she had seen in the photo.
After a visit to the opticians, Dela-Rose was then referred to an ophthalmologist. The specialist, who found that Dela-Rose's left eye didn't fixate or respond well to light, further referred the couple to a consultant at Dover Hospital. It was at this point that Shelby and Ryan realised that something could be seriously wrong.
Shelby said: "In those two weeks between seeing the ophthalmologist and the consultant, we had noticed that Dela-Rose's left eye had started to develop a sort of glazy haze, which was now becoming more noticeable.
"People say you shouldn't Google symptoms because it only makes you worry, but we had been. We were hoping it was just a cataract – but when we realised it could be something as serious as eye cancer, I felt sick to my stomach."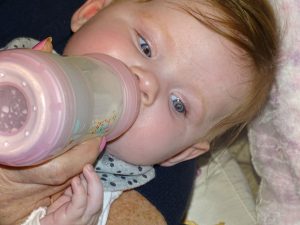 After further examination by the consultant at Dover Hospital, tests revealed the news that the couple had been dreading – Dela-Rose had retinoblastoma, a rare eye cancer which affects around one child in the UK a week, and that she would need to be seen urgently by the specialist team at The Royal London Hospital.
Shelby said: "Ryan and I went into shock and we just sat down outside the hospital together – we couldn't believe what we had heard. I thought I'd mentally prepared myself for the worst, but I was absolutely heartbroken. We both were."
Within an hour, The Royal London Hospital had called the couple to arrange an urgent appointment for the following week.
Shelby said: "I broke down in tears on the phone to my mum – 'It's just not good news' I told her. We desperately wanted someone to fix what was wrong with our baby girl."
At the Royal London Hospital, Dela-Rose's eyes were examined under general anaesthetic where they could thoroughly check the tumour's progression. Thankfully, the cancer was only in one of her eyes and hadn't spread any further.
Shelby added: "I kept wanting to know why my child had this cancer, what was the cause. We were told that it can happen to anybody's child unexpectedly and they're still not really sure why – you don't have to have a family history – it's just if you're very unlucky."
The couple spoke with the hospital staff about possible treatment options. As Dela-Rose's tumour was large, they decided to have the affected eye removed, known as enucleation, thereby completely removing the tumour as well.
Shelby said: "It was such a hard decision to make. We decided that as Dela-Rose didn't have good vision in that eye anyway as the tumour was so large – we just wanted it gone. Chemotherapy and cryotherapy wouldn't have saved her vision and she could have gone through all that treatment and still had to have her eye removed if it didn't work."
Dela-Rose had the surgery on 30th October 2019. The couple stayed overnight with her in the hospital and were allowed to take her home the next day.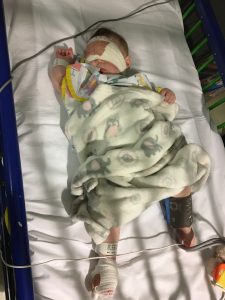 "It was like a whirlwind. Everything happened so quick. We were absolutely heartbroken, but also so relieved that our daughter's cancer had finally been removed."
Thankfully, Dela-Rose quickly recovered from her operation and in February she received her first artificial eye from Moorfields Hospital in London.
Shelby said: "We're really happy with her eye and she's taken to it very well. I'm so impressed with how it looks; they've done an amazing job."
"I look back to this time six months ago – I can't believe how quick the whole process was. It was like our lives were thrown into a hurricane but all we cared about was making sure that Dela-Rose got better. Now she's a really lively, talkative one-year-old who certainly keeps us on our toes!"
In a message to parents, Shelby says: "Please don't delay in getting your child seen if you feel something isn't right. I felt like I was a hypochondriac, worrying for no reason and didn't want to be a burden on the NHS.
"But please, don't delay, just go get them checked out. In reality you're not bothering anyone – take notice of your gut feeling. I'm so glad I mentioned my concern to our doctor, because that led us to being able to catch it early enough and not waste any time."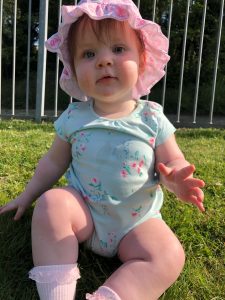 Patrick Tonks, Chief Executive of the Childhood Eye Cancer Trust said:
"COVID-19 is deterring many people from seeking much-needed medical advice, and we are concerned about the delays this may cause in getting undiagnosed children the urgent treatment they may need.
"10th – 16th May is World Retinoblastoma Awareness Week, and the current crisis means that, now more than ever, we need to raise awareness of eye cancer symptoms – the most common being a white glow in the eye and a squint.
"GP surgeries are still 'open for business'. They are available for consultations online, over the phone or in person if required. Cancer doesn't stop for a pandemic. We urge parents if they have any concerns at all, not to delay seeking medical help in order to possibly help save their child's sight, eyes and even life.