The mum, aunt, grandmother and grandfather of a little boy who had retinoblastoma are all taking part in the London Marathon this year for the Childhood Eye Cancer Trust.
Jamie Regan-Francis, from East Ham, London, was two years old when he was diagnosed with retinoblastoma. Just a week later he had an eye removed to stop the cancer spreading and save his life. That was just the beginning of months of hospital check ups and tests for the toddler but five years on, Jamie is doing really well.
Now, to say thank you for the support they received from CHECT, Jamie's mum Katie Regan, his aunt Victoria Regan and his grandparents Jacqui and Danny Regan are all taking part in the 2017 London Marathon.
Katie, 27, says: "I've never done anything like this before and neither have my parents, so it's going to be quite a challenge for us all! But we're really excited about the big day and Jamie will be coming along to cheer us on which will definitely keep us going."
It was Christmas 2011 when the family's life was turned upside down. Katie had noticed a strange white glow in Jamie's right eye and took him to the doctor to get it checked out. At first she was told there was nothing to worry about but her mother's instinct told her something was wrong and she took him back a few days later. This time he was referred to an eye specialist who said that he needed to be seen at Moorfields Eye Hospital. Tests revealed that Jamie had a tumour in his eye and he was referred urgently to the Royal London Hospital, one of two specialist centres for retinoblastoma in the UK.
Just two days after Christmas, the family were at the Royal London where it was confirmed that Jamie had retinoblastoma and would need surgery to remove his eye as soon as possible. Katie says: "We were completely shocked – Jamie had no other symptoms other than the white glow in his eye. Just a week later, at only two years old, Jamie had his eye removed and faced a winding journey ahead, full of hospital appointments and adjusting to his new eye. It was devastating, and so hard for us to get through."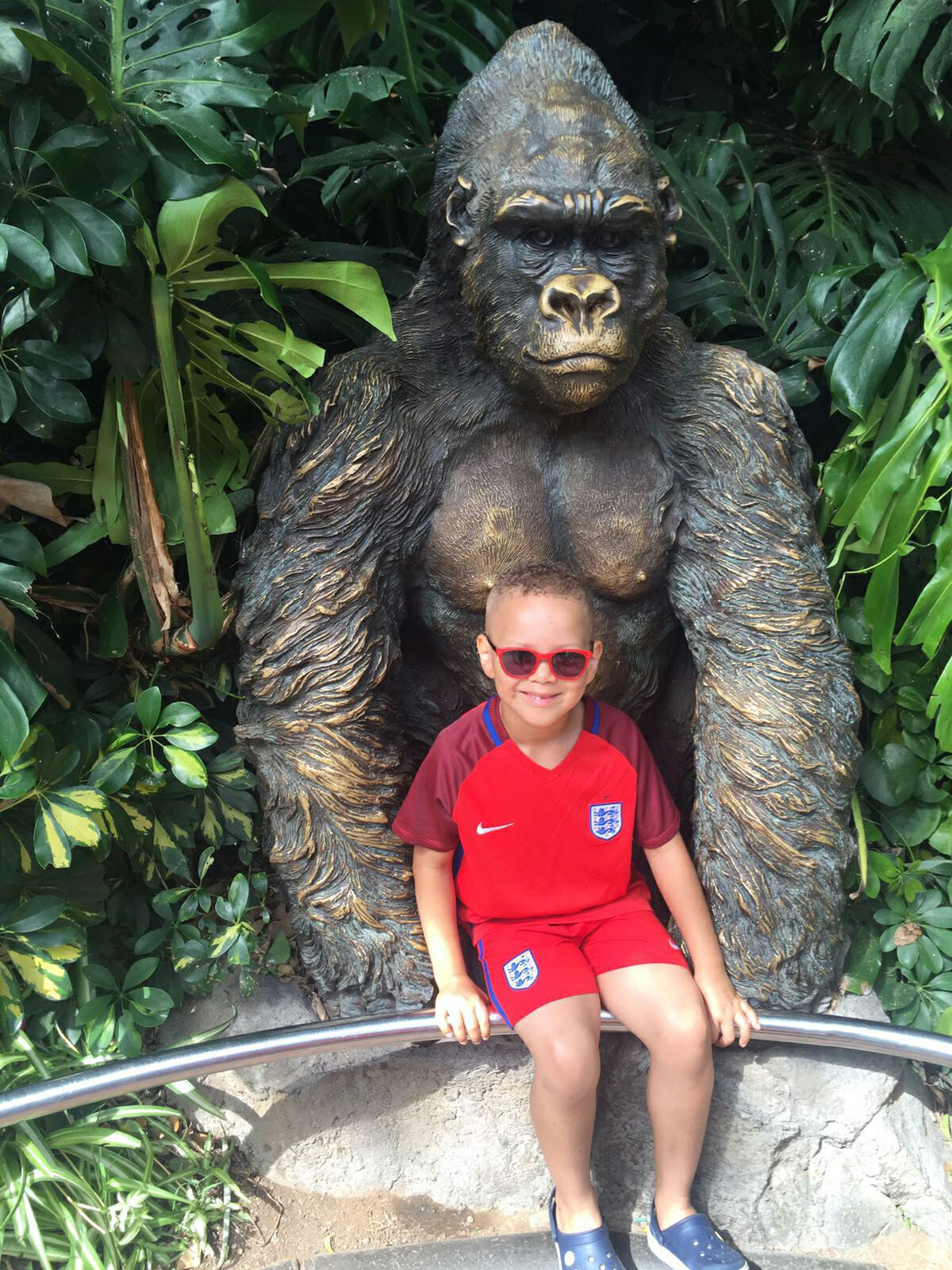 Fortunately Jamie hasn't needed any further treatment and is a happy, healthy seven-year-old boy who loves football and swimming.
Katie says: "I worried about how Jamie would cope with an artificial eye but he is really confident with it and it hasn't stopped him doing anything.
"We are all so proud of how he has handled things, he is such an inspiration to me."
Katie adds: "CHECT was there for me when I needed support and now, five years after Jamie was diagnosed, I want to give something back and there is no better way than the London Marathon. I couldn't believe it when my sister, mum and dad said they wanted to take part too – it really is a family affair now!"
Katie has been busy training with her parents Jacqui, 50 and Danny, 53 who also live in East Ham, while her sister Victoria, 32, is pounding the streets in her hometown of Hornchurch.
Victoria said: "When Jamie was diagnosed with retinoblastoma it really hit our whole family so hard. As a parent you want to protect your child and I knew that even though my sister is a tough character, she was struggling to come to terms with what had happened to her little boy. I was pregnant with my daughter at the time and it was very emotional for us all.
"But Jamie is such a happy child and smiled all the way through everything, even after his operation, and that really kept us all going. The help we got from CHECT made such a different to my sister – and our whole family – so when the opportunity came up to raise money for the charity we all jumped at it straight away. I'm feeling pretty nervous but I'm also really excited and I know that on the day the adrenaline and the knowledge that Jamie is there cheering us on will be all the motivation we need."
Patrick Tonks, Chief Executive of CHECT, said: "A diagnosis of retinoblastoma has a major impact on the whole family as well as the baby or child and so it is quite wonderful to see so many members of the same family running the marathon for us! We are incredibly grateful to Katie, Victoria, Jacqui and Danny for their amazing support – we wish them all the best with their training and we'll be there on the day to cheer them on."
Patrick added: "The money raised will help us to support families affected by eye cancer and increase awareness of this little known condition. Around 98 per cent of children will survive retinoblastoma but early diagnosis is vital in order to save a child's eyes, sight and life."