We often feature our wonderful CHECT mums in our stories, and we feel it's important to recognise those amazing dads out there who go above and beyond to support their families as well.
For Father's Day, we asked children (with a bit of help from mum) to nominate their dads for an honorary CHECT Champion Award. Congratulations to the awesome dads below who were nominated, each of you will receive a special CHECT Champion certificate!
Champion Dad: Charl Koekemoer
Nominated by: Taigh Koekemoer (age 20 months)
written by Charlene Koekemoer (mum)
I [Taigh] would like to nominate my hero Dad for the Honorary CHECT Champion Award.
I was diagnosed with Rb at nine weeks old and had my right eye removed a week later (five days before Christmas). We had to travel from Ireland to Birmingham to have the operation and then fly over every month thereafter for check-ups. My mommy was very upset and really struggled with what was going on with me.
When I was in hospital for three days in another country, daddy sat with me in the hospital feeding me, loving me and playing with me so that mommy could have a break and go shower and sleep at the hotel for a few hours. We even met Batman together.
My daddy comes with me to every check-up appointment, every oncology appointment and every ocularist appointment… and I have had A LOT of appointments. When I have my appointments my daddy helps distract me so that I am not scared while the doctors are doing their checks.
I know my daddy can be scared sometimes too, but without my daddy's strength and help, mommy and I wouldn't have come out as strong as we are after my Rb diagnosis.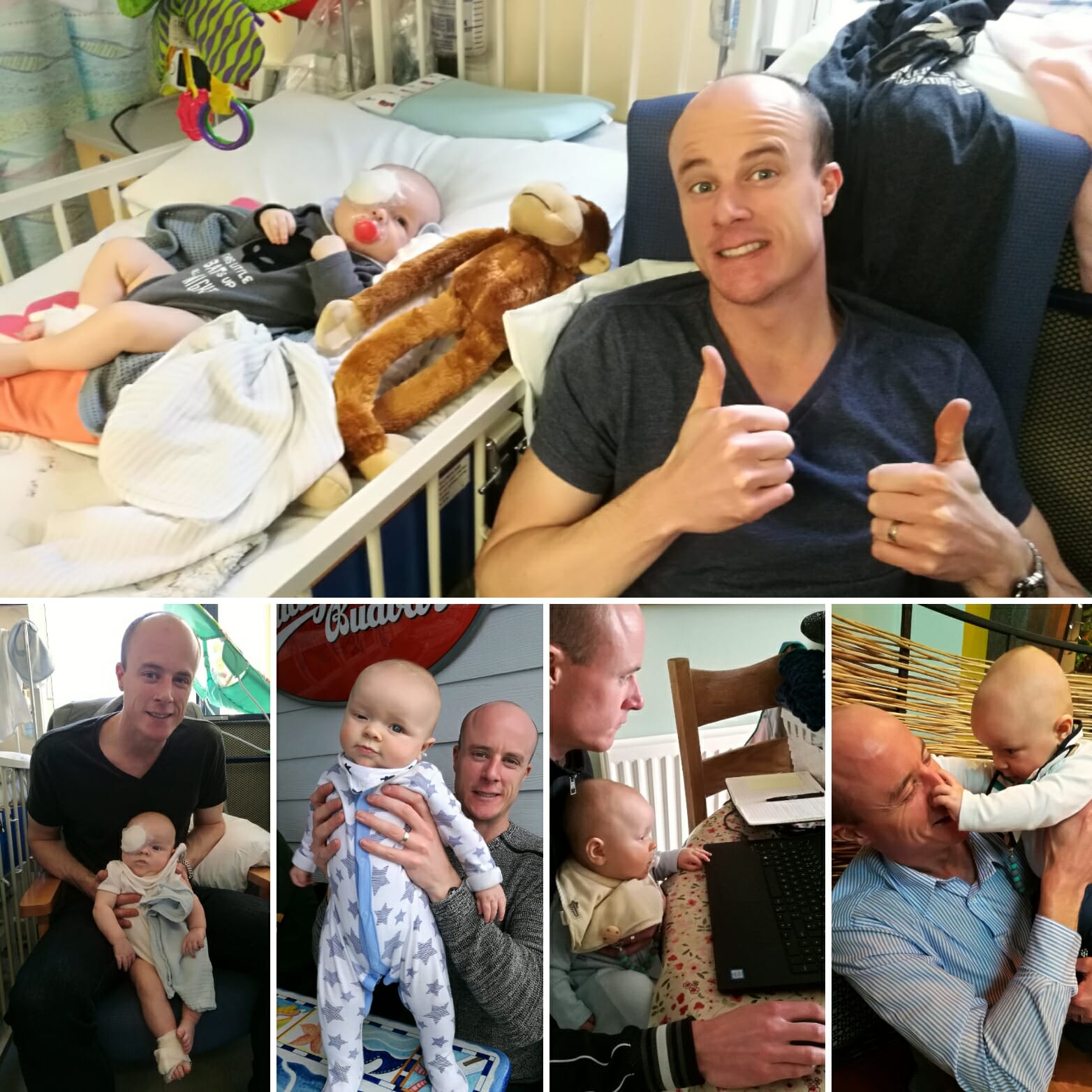 Champion Dad: Tom Roselle
Nominated by: Bea Roselle age 19 months
written by Susie Roselle (mum)
My daughter Bea and I would love to nominate daddy Tom.
Tom was diagnosed with retinoblastoma when he was only little. Unfortunately, along with chemotherapy treament, he had to have his right eye removed. Bea thinks her daddy is her hero because she has to have her eyes checked regularly and often under general anaesthetic to ensure she doesn't have any signs of the same cancer.
Her daddy is always there for her when she goes to sleep and when she wakes up. Bea's toy mouse 'Pipsqueak' also joins Bea in the operating theatre and gets dressed up for the occasion!
Along with being a full-time stay-at-home dad and running his own business, Tom is always trying to help others and is almost at the end of a five-year degree to become a chiropractor.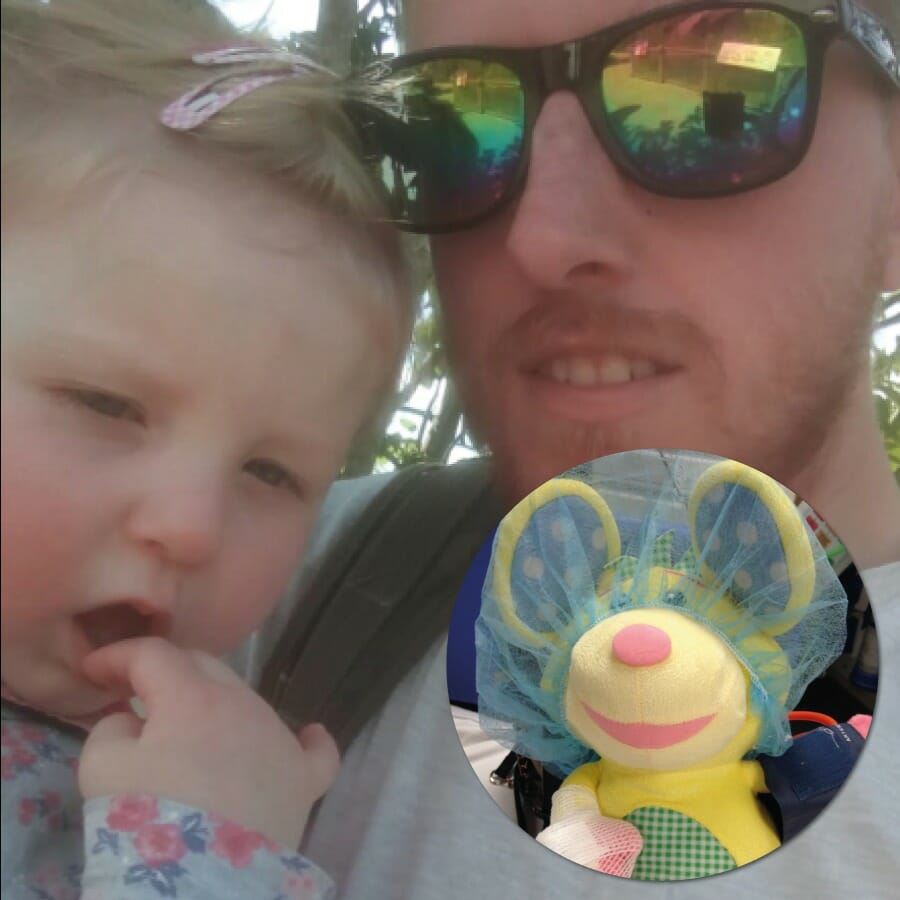 Champion Dad: Phil Booth
Nominated by: Monty (age three) and Harry (age eight)
written by Clare Booth (mum)
On behalf of Monty and Harry we would love you to consider their daddy for this award.
Our beautiful boy Monty was diagnosed with retinoblastoma on 28th September 2018 at the age of two years and four months, unfortunately Monty had to have his eye removed six days later. To say it was a huge shock is an understatement – we had never heard of Rb.
My husband Phil has been my absolute rock we don't know what we would do without him. The whole family have found Monty's diagnosis devastating, particularly as Phil lost his nan just a few months before Monty's diagnosis.
We feel very lucky that Monty is now cancer free. Monty has been, in Phil's words, his "hero". He is the bravest person we know – nothing has stopped him and he is doing so well. His big brother Harry (aged eight) is amazing too – he is so protective of his little brother.
As a family we are now putting all our efforts into fundraising. Phil is doing ten 10km runs. In just a couple of weeks he has completed his first two runs and he is also arranging a golf fundraiser with his dad. He desperately wants to show his appreciation for all the hard work CHECT and Birmingham Children's hospital do.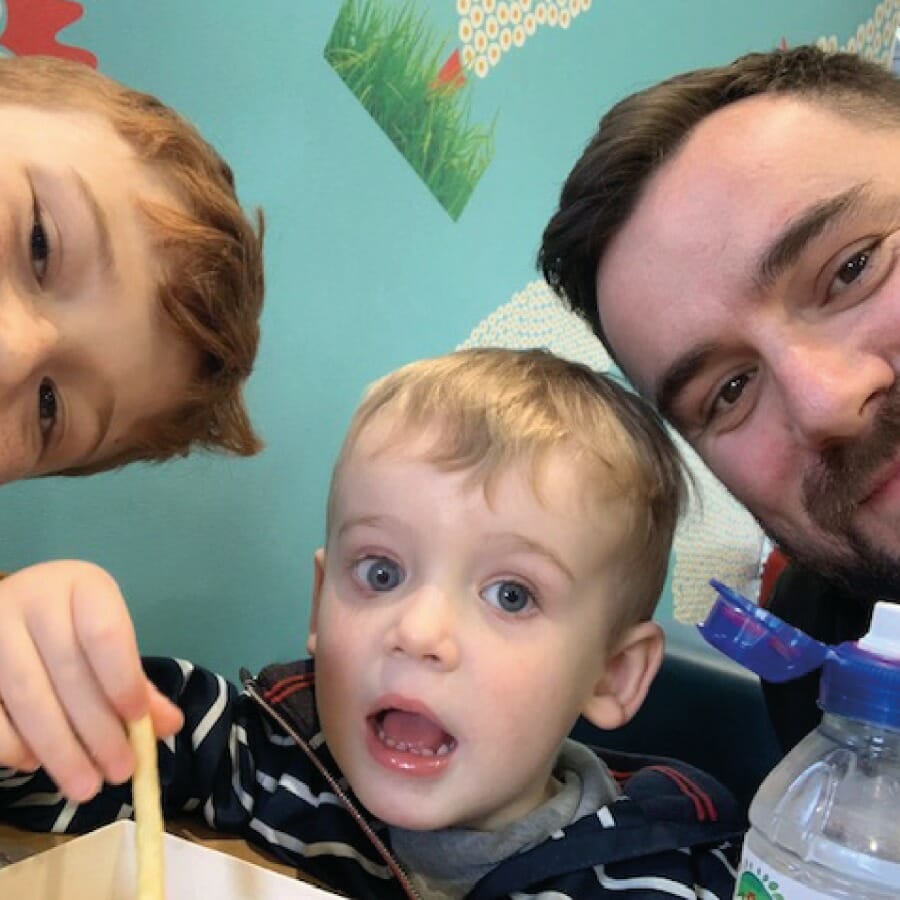 Champion Dad: Chris Nash
Nominated by: Olivia Nash age 3
written by Stefania Nash (mum)
My name is Olivia Nash and I am three years old. I would like to nominate my daddy for this award because he has been a rock to me, my new baby brother and to my mummy – including when my baby brother was growing bigger and bigger in mummy's tummy.
He has been there when I needed him the most from having my diagnosis, eye removal, chemotherapy, proton beam therapy in Germany and my sleepovers with him at our local hospital. He has taken time off work to care for me alongside mummy.
Whenever i felt scared, daddy made it all okay. He showed me that it isn't so scary and made me feel at ease and showed me i can be brave through this journey. I love my daddy and he is my best friend. He is our champion.