We were delighted to have a little visitor in our office last week when Lucy Rodriguez popped in with her family to say hello on their way to a hospital appointment. To her amusement Lucy found plenty to keep her occupied, not least the 200 collecting tins CHECT volunteer Richard had been busy labelling up.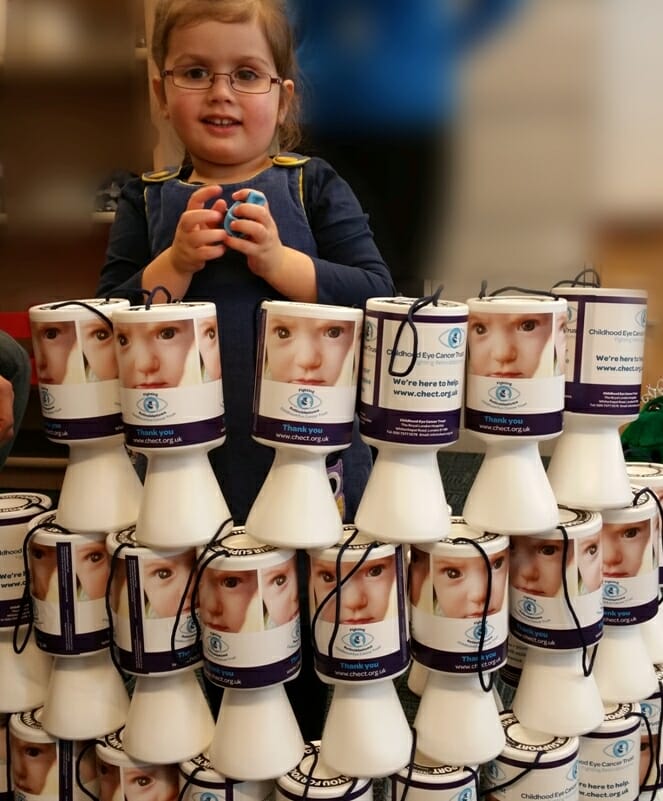 200 tins for Rb week
From May 10-16 we will be marking World Retinoblastoma Awareness week – a chance when we can keep a focus on raising awareness of the signs of Rb so that children can reach life-saving treatment sooner. To mark this year's awareness week we're challenging our supporters to find new homes for 200 Childhood Eye Cancer Trust collecting tins. Not only will they help raise awareness in your communities, each one also holds around £50 when full so we're hoping you can help us reach a target of £10,000!
Where could my fundraising tin live?
Ideally somewhere likely to have a lot of people passing by (generous ones hopefully!)
How about asking:
• Your local pub to put one behind the bar?
• Your local church to hold an outgoing collection?
• Your friends to take a collecting tin into work?
• Your local corner shop or takeaway to pop one on the counter?
• Your nearest and dearest to do a door to door collection?
• Your shopping centre manager if you could hold a collection there?
How about making a social occasion out of it?
CHECT Ambassador Denise Jones gathered a group of friends together and went on a pub crawl with their collecting tins – having checked with various landlords in advance that they were happy for them to do so. The ladies dressed in fancy dress and called into their pubs and hotels, handing out leaflets as they received donations. The group managed to raise a brilliant £85 in total. Not bad for one night's efforts!
What permissions do I need to collect money for charity?
You do need to plan ahead if you are going to take on a street or shopping centre collection as you will need to check with the licensing office at your local council in case you need a collection licence. These licenses can sometimes take a few weeks to be processed so get in touch with them as early as possible.
What difference could your tin make?
It sometimes helps to know how CHECT might spend any funds raised – especially when asking someone to display a tin for you. You might wish to tell them any or all of the following:
All monies raised in the Adopt a Tin challenge will go towards:
• The charity's support fund – which helps families struggling to meet extra costs associated with having a child in treatment for Rb. This is usually help with travel expenses but we consider a variety of requests.
• Support service – it will help fund the two CHECT support workers to be at the hospital clinics to support families from diagnosis and throughout treatment.
• Raising awareness – It will help CHECT meet print costs for our awareness leaflets to ensure as many people as possible know the signs of retinoblastoma.
• Meet-ups – It will go towards the costs of arranging regular meet-ups for families – a vital source of support for people who may not otherwise know anyone else affected by retinoblastoma.
How to adopt your tin
To adopt one of CHECT's collecting tins, just drop us a line today at fiona.heath@chect.org.uk or call 0207 377 5578 and we will get one sent out straight away. You will also receive your fundraising pack to include:
• A receipt for you to complete and give to your tin 'host' when you pick up your (hopefully) full tin
• A blank thank you certificate for you to complete and give to your tin 'host' on our behalf
• Instructions regarding your collection tin and banking details
• An authority to fundraise letter explaining about the 200 tin challenge
It may seem like a small task but every little adds up to make a significant difference to the support we are able to offer someone affected by retinoblastoma so please call us on 0207 377 5578 today to adopt your tin.