Support CHECT by taking part in the #TwoPointSixChallenge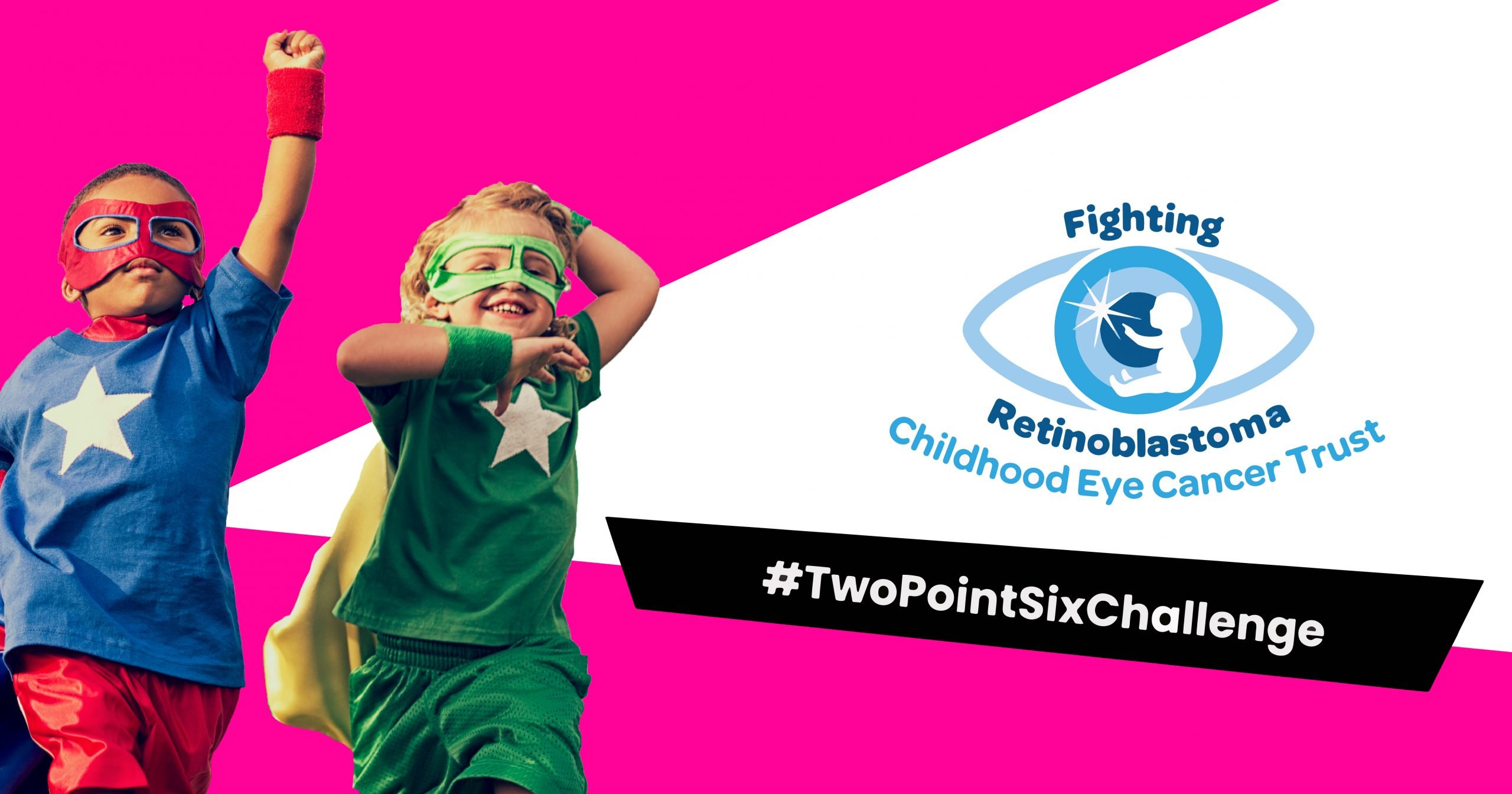 What is the #TwoPointSixChallenge ?
For many charities, including CHECT, the COVID-19 pandemic has had a catastrophic effect on our ability to raise much-needed funds with the cancellation of thousands of events and the loss of billions in income through fundraising events.
It has been estimated that the UK charity sector will lose £4 billion in income as a result of the pandemic, impacting all sectors of society. Many of these charities have had to reduce or stop services at a time when vulnerable members of society need them most.
"This is a really difficult time for so many charities and at the Childhood Eye Cancer Trust we have seen a dramatic impact as fundraising activities and planned events have simply stopped with no clarity on if, when and how things will resume.

As a small charity, with some half of all our income directly generated by our amazing members, families and supporters, this will have a huge effect on our income over the next six to 12 months and so we need you more than ever to ensure we are able to continue to provide the help and support valued by so many individuals and families."

– Patrick Tonks Chief Executive of the Childhood Eye Cancer Trust
In response, the organisers of the biggest mass-participation sports events across the country have come together to create a new campaign to raise vital funds to help save the UK's charities.
The campaign, 'The 2.6 Challenge', will launch on Sunday 26 April – what should have been the date of the 40th year of the Virgin London Marathon. This event alone raised more than £66.4 million for thousands of charities in 2019. The race has now been postponed to Sunday 4th October, but the original date of Sunday 26 April resonates very strongly with the many thousands of runners, charities, spectators and TV viewers who've been counting down to the big event.
How do I get involved?
From Sunday 26 April, the public are asked to think up an activity based around the numbers 2.6 (or 26) and fundraise or donate to their chosen charity. The 2.6 Challenge is open to all ages – the only requirement is that the activity must follow the Government guidelines on exercise and social distancing. Ultimately, it's a simple, safe and fun way for everyone to do their bit to help save the UK's charities.
Step 1: First decide your 2.6 Challenge.
Step 2: Then head over to our CHECT charity page on the 2.6 Challenge website and click the 'Fundraise' button to set up a fundraising page for CHECT as your chosen charity. If you would like to fundraise without creating a fundraising page, simply collect the money from your activity and pay in the funds using the 'Donate' button instead. 
Step 3: Complete your chosen challenge! Help inspire the nation by sharing pictures or videos of your challenge on social media using the hashtag #TwoPointSixChallenge. Please remember to let us know how you raised your funds in your message of support and we will email you a certificate!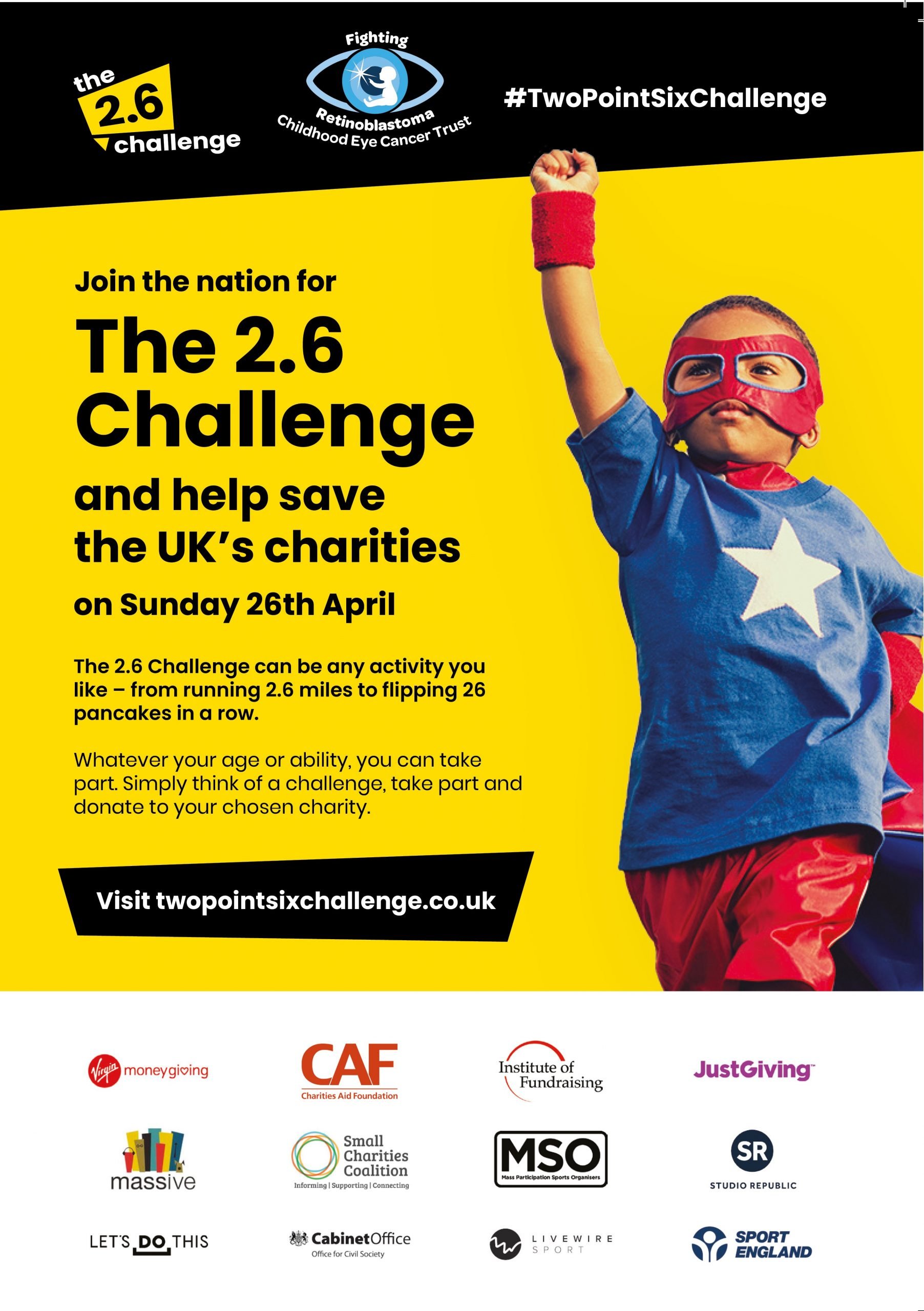 What challenge should I do?
This could be something as simple as pledging to run 2.6 miles as your daily exercise to doing 26 minutes of yoga, or juggling for 26 minutes (or maybe just 2.6 minutes) non-stop. And don't worry if you're not able to get out of your house or flat for now – you can do your 2.6 challenge anywhere inside too! The #TwoPointSixChallenge is your chance to be a 'Home Hero' and raise funds from your very own living room, bedroom, balcony or garden!
There are no rules, apart from the Government guidelines on how to exercise safely during this time. Whatever you can do, you can be a part of it – the main thing is to get active, have fun and pledge whatever you can to help.
Here are just a few ideas:
Do 26 press ups – or 260
Complete 26 laps of the garden on foot, scooter or roller skates
Hula hoop 26 times
Try 26 sofa-triceps dips
Do 26 cartwheels
Hop on each leg 26 times
Get 26 friends together for an online workout – for 26 minutes
Hold the plank for 26 seconds or 2.6 minutes (that's 156 seconds!)
Walk 2.6 km (that's 3,412 steps) around your house in fancy dress
Remain silent for 26 minutes (or 2.6 hours!)
Thank you and the best of luck with your #TwoPointSixChallenge!